Julia, Aidita Vilés Y Trio Los Murcianos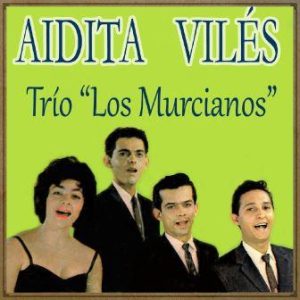 Add to favorites
Title: Julia
Artist: Aidita Vilés
Country: Puerto Rico
Date: 2014-01-02
Aidita Vilés, Aída Marrero Mercado es su nombre verdadero.
Aidita Vilés  nació en la Calle Del Cristo, en el Viejo San Juan, un 13 de julio. Hija del matrimonio que formaron Manuel Marrero Córdoba y Adela Mercado Rosado. Tuvo un hermano menor, también llamado Manuel, que falleció hace años. A la edad de cinco años fue a radicar con su familia al condado neoyorquino de Bronx, donde transcurrió su temprana juventud.
Y su debut discográfico aconteció con el sencillo que contenía "Julia" – composición del italiano Edilio Capotosti traducida al castellano por Aguilé – que, precisamente, sería el máximo jitazo de su carrera. Y, al igual que en los siguientes sencillos que grabó, entre los que figuraban canciones como "Don't Brake my Heart", "Eres todo para mí" y "Lover", fue acompañada por Máximo Torres y su Trío Los Murcianos. Estas y otras melodías, como la siempre recordada "Mambo Rock", grabada originalmente por Chubby Checker, serían recogidas en el album "Julia / Los Murcianos con Aidita Viles" (Gema, LPG-1144), editado en 1962.
Mientras tanto, a raíz de aquellos primeros éxitos, Aidita Viles y Los Murcianos tuvieron oportunidad de recorrer casi todos los municipios de Puerto Rico actuando en fiestas patronales y de presentarse en los teatros hispanos de Nueva York. También les valió un contrato para actuar durante dos años en el programa "La Taberna India", de Telemundo / Canal 2, entonces el de mayor sintonía de la pantalla chica nacional. Es importante resaltar el dato de que, además de por el hecho de exponer un repertorio que entonces resultaba novedoso, de acuerdo al sentir de muchos el atractivo principal de las presentaciones de aquel colectivo era ella, dotada de una figura curvilínea y un rostro bellísimo.
Más allá del sello Musicor, "Si yo canto para ti" también formó parte del álbum "Campeones de la Nueva Ola" que produjo Alfred D. Herger en 1966 para la compañía Rico-Vox. En él, Aidita compartió estelares con otras figuras de la naciente Nueva Ola nacional como bien eran Lucecita Benítez, Chucho Avellanet, Charlie Robles, Julio An gel, Los Kintos, Los Montemar, Pepe Luis y la entonces niña Ednita Nazario. Como parte de la producción, Aidita Viles y Los del Río interpretaron además "Un chico sin igual", versión al español de "Leader of the Pack".