Johnnie Ray in Concert 1957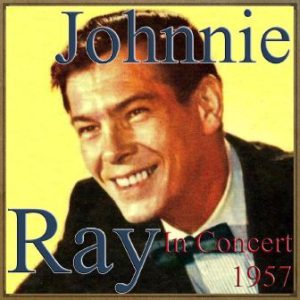 Label: Johnnie Ray in Concert 1957
Release date: 2012-10-15
Johnnie Ray, John Alvin Ray (Hopewell, Oregón, 10 de enero de 1927 – Los Ángeles, California, 24 de febrero de 1990) fue un cantante, compositor y pianista estadounidense. Popular durante la década de 1950, Ray ha sido citado por los críticos como uno de los principales precursores de lo que se convertiría en el rock and roll, por sus influencias con el jazz y el blues y por su animada personalidad.
A los 13 años Johnnie Ray se quedó sordo del oído derecho realizando una actividad con los Boy Scouts. Participaba en la "blanket toss", una especie de cama elástica, cuando por accidente quedó traumatizado el oído interno. Posteriormente Ray tuvo que usar un audífono. Mucho más tarde, en 1958, una cirugía realizada en Nueva York lo dejó casi completamente sordo de ambos oídos, a pesar de ayudarse de audífonos.
Johnnie Ray debutó a los 15 años en un concurso en Portland, Oregón. En 1951 se traslada a Detroit, donde comenzó a llamar la atención con sus actuaciones en el Flame Showbar, un club nocturno de R & B de la ciudad. Inspirado por el ritmo de cantantes como Kay Starr, LaVern Baker y Ivory Joe Hunter, Johnnie Ray desarrolló un estilo inconfundible basado en el ritmo, que se describe como la alternancia entre el pre-rock, R & B y un pop más clásico que el enfoque convencional.
Su primer disco, Whiskey y Gin, grabado en 1951 con OKeh Records, fue un éxito menor. Sin embargo, al año siguiente, pasaría a dominar las listas con un sencillo cuyos temas Cry y The Little White Cloud That Cried alcanzaron gran éxito y del que se vendieron más de dos millones de copias. Johnnie Ray supo conectar con los adolescentes y se convirtió rápidamente en uno de sus ídolos .