Jo Stafford, Jo Stafford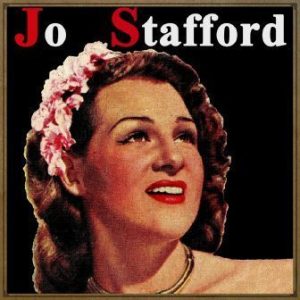 Add to favorites
Title: Jo Stafford
Artist: Jo Stafford
Country: USA
Date: 2010-10-11
Jo Stafford, Jo Elizabeth Stafford (12 de noviembre de 1917 – 16 de julio de 2008 ) fue una cantante estadounidense de música popular tradicional así como de jazz cuya carrera abarcó desde finales de la década de 1930 hasta inicios de la de 1960. Stafford fue muy admirada por la pureza de su voz, y fue considerada como una de las más versátiles vocalistas de su época.
Jo Stafford era capaz de conseguir el tono perfecto sin ver el instrumento sin haber visto el instrumento que lo tocaba. Fue también pionera de la moderna parodia musical, habiendo ganado un Grammy en 1961 (junto a su marido Paul Weston) por su álbum Jonathan and Darlene Edwards in Paris.
Jo Stafford nació en Coalinga, California. Sus padres eran Grover Cleveland Stafford y Anna York Stafford, prima lejana del Sargento Alvin York, héroe de la Primera Guerra Mundial. Originalmente ella quería ser cantante de ópera, por lo que estudio canto en su infancia.
Sin embargo, a causa de la Gran Depresión, abandonó esa idea y se unió a sus hermanas Christine y Pauline para formar un grupo vocal de música popular, "The Stafford Sisters", el cual actuó en la emisora radiofónica KHJ, de Los Ángeles, California.
En 1937 Jo Stafford trabajó fuera de escena con Fred Astaire interviniendo en la banda sonora de A Damsel in Distress, haciendo los arreglos y, junto a sus hermanas, las voces de fondo para el tema "Nice Work If You Can Get It".
Cuando sus hermanas se casaron, el grupo se disolvió y Stafford se unió a un nuevo conjunto, The Pied Pipers. Estaba formado por ocho miembros: John Huddleston (que era el esposo de Stafford en ese momento), Hal Hooper, Chuck Lowry, Bud Hervey, George Tait, Woody Newbury, y Dick Whittinghill, además de Stafford. El grupo llegó a ser muy popular, trabajó para la radio y en bandas sonoras cinematográficas, y captó la atención de dos de los arreglistas de Tommy Dorsey, Axel Stordahl y Paul Weston.