I Want to Be Happy, Rex Stewart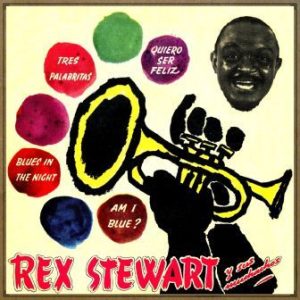 Label: I Want to Be Happy
Release date: 2012-07-07
Rex Stewart (Filadelfia, 22 de febrero de 1907 – Los Ángeles, 7 de septiembre de 1967) fue un cornetista de jazz de nacionalidad estadounidense, conocido principalmente por su trabajo con la orquesta de Duke Ellington.
Antes de instalarse primero en Philadelphia y, en 1921, en Nueva York, Rex Stewart había adquirido una buena experiencia tocando en los barcos de vapor que surcaban el río Potomac. Instalado en la gran ciudad, actuó en los cabarets de Harlem y tocó en las orquestas de Elmer Snowden (1925), Fletcher Henderson (1926 y 1928-33) y Horace Henderson (1927).
Tras un breve paso por la orquesta de Luis Russell, Rex Stewart ingresó en 1934 en la orquesta de Duke Elington en la que permaneció hasta 1945. Durante su estancia en la orquesta fue co-compositor de clásicos como "Boy Meets Horn" y "Morning Glory". En 1939 realizó en Paris unas grabaciones con Django Reinhardt.
Tras dejar a Duke, Rex Stewart lideró diferentes bandas y formó parte entre 1947 y 1951 de Jazz at the Philarmonic, show con el que realizó numerosas giras por Europa y Australia. En 1948 daba clases en el Conservatorio de París y a comienzos de los años cincuenta dejó los escenarios para dirigir una granja en New Jersey al mismo tiempo que colaboraba en programas de radio y TV.
En 1956 Rex Stewart regresó a Nueva York y dirigió la Fletcher Henderson Reunion Band con la que apareció en 1958 en el Great South Bay Jazz Festival celebrado en Long Island. Posteriormente tocó en el club de Eddie Condon y en 1960 se trasladó a la costa Oeste, donde escribió una serie de artículos sobre jazz, reunidos en la colección 'Jazz Masters of the Thirties', que se publicó tras su muerte. Trabajó en radio como DJ y publicaba regularmente sus críticas en la revista Downbeat. Murió en septiembre de 1967 a los 60 años.