Hugo Winterhalter Goes… Latin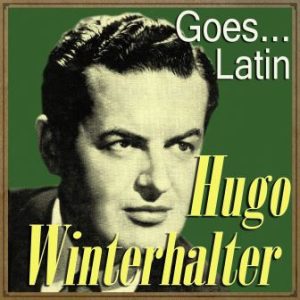 Label: Hugo Winterhalter Goes… Latin
Release date: 2015-07-29
Hugo Winterhalter nació en Wilkes-Barre , Pennsylvania . Se graduó de Mount St. Mary´s , cerca de Emmitsburg, Maryland en 1931, donde tocaba el saxofón en la orquesta y cantó en dos de los coros. Más tarde estudió violín en el Conservatorio de Nueva Inglaterra.
Después de graduarse, Hugo Winterhalter trabajó como profesor durante varios años antes de hacerse profesional durante la década de 1930 cuando actúa como acompañante y arreglista de Count Basie , Tommy Dorsey , Scott Raymond , Claude Thornhill y otros.
Hugo Winterhalter también llevó a cabo sesiones con cantantes como Dinah Shore y Billy Eckstine , y en 1948 fue nombrado director musical de MGM Records . Después de un periodo de dos años con el sello discográfico , se cambia a Columbia Records , donde anotó obtuvo un éxito con la partitura orquestal de " Blue Christmas ".
En 1950, Hugo Winterhalter firmó con RCA Victor , donde lleva a cabo sesiones con artistas como Perry Como , Eddie Fisher y los Ames Brothers , también grabó varios álbumes instrumentales, entre ellos en 1.952, un disco con grandes éxitos de TV.
Hugo Winterhalter se quedó con RCA hasta 1963, momento en el que se trasladó a Kapp , ese mismo año, él también escribió el tema del título principal de la película , Diamond Head . En Kapp grabó varios álbumes como The Best of ´64 y los grandes éxitos de 1965 , antes de salir de la discográfica para trabajar en Broadway . Más tarde trabajó en la televisión y continuó grabando algún disco con varia compañías
Hugo Winterhalter murió de cáncer , en Greenwich , Connecticut el 17 de septiembre de 1973.