Heavenly Spirit!, The Jordanaires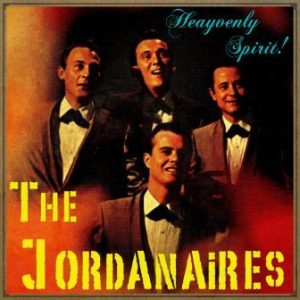 Add to favorites
Title: Heavenly Spirit!
Artist: The Jordanaires
Country: USA
Date: 2012-07-06
The Jordanaires eran un cuarteto vocal norteamericano, que se formó como en 1948.
Su popularidad llegó cuando, en 1956, entraron a formar parte de la carrera de Elvis Presley convirtiéndose en el grupo vocal que le acompañó en directos y grabaciones hasta 1972
La Formación inicial de The Jordanaires , estaba integrada por Bill Matthews, Bob Hubbard, Monty Matthews, Culley Holt y Bob Money al piano, pero este último abandona el grupo un año después, en 1949 y es sustituido por Gordon Stoker
A lo largo de  su historia, The Jordanaires cambió de integrantes en varias ocasiones.
Su momento más importante tiene lugar cuando se cruzan con la carrera de Elvis Presley
Una tarde de domingo en 1955, The Jordanaires tocan en un show en Memphis con Eddy Arnold, allí interpretan "Peace In The Valley" y cuando el espectáculo había terminado, un hombre joven, tranquilo y cortés, con un montón de pelo peinado hacia atrás,  fue a los camerinos a su encuentro. Era Elvis Presley , un cantante totalmente desconocido que les dijo "Si alguna vez tengo un contrato de grabación con una empresa importante, quiero que ustedes estén conmigo". Elvis estaba en Sun Records en ese momento.
El 10 de enero de 1956, Presley graba sus primeras sesiones para el sello RCA con el guitarrista Scotty Moore, el bajista Bill Black y el bateria DJ Fontana. Ese día graba, " I Got A Woman ",  "Heartbreak Hotel" y "Money Honey". Fiel a su palabra, Presley le pidió a su nuevo sello RCA Victor, si The Jordanaires podrían aparecer en las grabaciones. Al día siguiente, Gordon Stoker fue llamado por Chet Atkins para hacer una sesión con un chico nuevo, llamado Elvis.
En abril de 1956, "Heartbreak Hotel" fue N º 1.
The Jordanaires, que aconmpañó durante muchos años a Elvis estaba integrada por Gordon Stoker, Neal Matthews, Hoyt Hawkins y Hugh Jarrett (este último sustituido en 1958 por Ray Walker)