Have You Met… Don Rondo? 1958, Don Rondo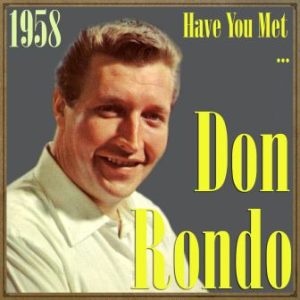 Label: Have You Met… Don Rondo?
Release date: 2014-02-22
Don Rondo (5 Enenro 1930 – 27 Enenro 2011) Sui verdadero nombre era Donald Rondeau un cantante americano de baladas de música popular a mediados de la década de 1950. Don Rondo era conocido por su distintiva voz de barítono.
Don Rondo, nacido en Ware, Massachusetts, se hizo popular después del lanzamiento, en 1956,  de la canción " Two Different Worlds ". Lanzado por Jubilee Records en octubre de 1956, la canción pasó tres meses en el Billboard, alcanzando el puesto nº 11. Con el tiempo, llegó a vender más de un millón de copias, en un momento en que la música de su género se enfrentaba a una fuerte competencia con el Rock and Roll .
Debido al éxito de "Two Different Worlds", Jubilee rápidamente lo siguió con otro lanzamiento, "The Love I Never Had" que no tuvo tanto éxito. Después un tercer sencillo ,"On Forgotten Street" que tampoco llegó a funcionar.
Don Rondo cambio de ritmo en 1957, su siguiente lanzamiento fue un número alegre,  "White Silver Sands", escrito por Red Matthews, y que le proporcionó llegar alnúmero 7 en las listas. La canción se convirtió en realidad en el mayor éxito de venta de Jubilee Records. Después gano el disco de Oro con  "White Silver Sands". Este iba a  ser el último gran éxito de Rondo. En la cara B de este disco fue el clásico de jazz  Stars Fell on Alabama.  Siguieron otros discos con canciones como  "There's Only You" y "Forsaking All Others", pero  apenas entraron en las listas de éxitos.