Happy Years, The Diamonds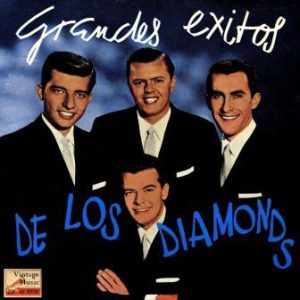 Add to favorites
Title: Happy Years
Artist: The Diamonds
Country: Canadá
Date: 2011-11-06
The Diamonds fueron un cuarteto canadiense de doo wop que alcanzaron la fama interpretando mayoritariamente versiones de canciones de artistas negros de los años 50 y que consiguieron 16 éxitos en las listas estadounidenses entre 1956 y 1961.
The Diamonds comenzaron a cantar este estilo de música en 1953, cuando Phil Levitt y Stan Fisher se encontraban de vacaciones en Crystal Beach, cerca de Toronto.
Durante sus comienzos practicaban distintos estilos de armonía vocal y comenzaron a actuar en clubs, funciones escolares, iglesias y en cualquier lugar que tuviesen audiencia.
De este modo, The Diamonds captaron la atención de la discográfica Coral Records, donde en 1955 interpretaron sus versiones de Black Denim Trousers y Motorcycle Boots, aunque ninguna de las dos llegó a vender lo suficiente para que Coral los retuviese en su catálogo.
The Diamonds alcanzaron su mayor éxito con la versión del tema Little Darlin´ del grupo The Gladiolas en 1957, justo dos semanas después de que este último lo lanzase al mercado musical.
En el 2004, The Diamonds fueron introducidos en el Vocal Group Hall of Fame con tres de sus miembros originales actuando, ya que Bill Reed, había fallecido el año anterior.