Gypsy Songs And Music, Albert Sandler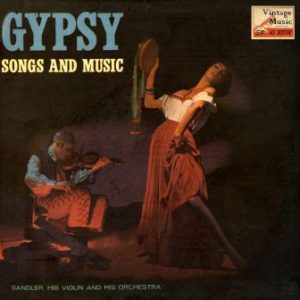 Albert Sandler fue uno de los directores de orquesta más populares en Inglaterra durante el período comprendido entre las dos guerras mundiales.
Albert Sandler, nacido en Londres en 1906, fue uno de los siete hijos de una familia rusa que había vivido exiliada. La familia de Sandler pasaba auténtica privaciones económica y no fué hasta  los nueve años que  consiguió sus primeras lecciones formales de música.
Más tarde Albert Sandler se encontró con un buen profesor de violín, y fué a los doce años cuando ganó su primer dinero tocando en una sala de cine. DFespues de la escuela acudía al cine hasta las 10 de la noche. Él asistió a la Guildhall School of Music con una beca (una distinción poco frecuente en esta institución) , y desde allí fue contratado para tocar en una orquesta de restaurante.