Goes Latin, The Pete King Chorale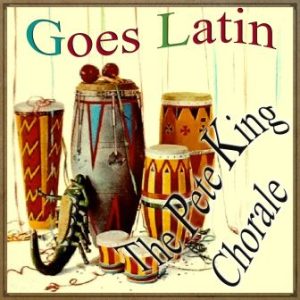 Add to favorites
Title: Goes Latin
Artist: The Pete King Chorale
Country: USA
Date: 2014-05-25
Pete King publicó – con y sin éxito – un sinnúmero de álbumes en los años 1950 y 1960. No fue un músico muy popular pero si muy reconocido entre entre el colectivo siendo elegido presidente de la Academia Nacional de las Artes y las Ciencias de 1967.
Pete King  estudió música en el Conservatorio de Cincinnati y la Universidad de Michigan, y trabajó en la radio en "The Fred Allen Show" y otras. Se mudó a Los Angeles después de la Segunda Guerra Mundial y comenzó a trabajar con Jackie Gleason , Bing Crosby y otros.
Pete King fue uno de los profesionales que se podía contar con  resultados previsibles, y por eso, su nombre aparece por todos lados: como el líder en álbumes para Dot, Kapp, Liberty, y Warner Brothers, y como arreglista en los discos de Billy Vaughn , Lawrence Welk , The Castaway Strings, The Ray Bloch Singers, y muchos, muchos más.
Pete King fue nominado a un Grammy por su álbum Pete King Coral, My Favorite Things. Trabajó con algunos de los mejores cantantes de la época, como Julie London, Kay Starr, Dean Martin, Doris Day, y Bing Crosby.
También Pete King  trabajó para el cine como en la comedia de Jerry Lewis "Las joyas de la familia" y la parodia de espías, "El último de los agentes secretos." También  orquestó para varias películas, comenzando con "April Love" y "An Affair to Remember" en 1957, y concluyendo con la versión cinematográfica de "Camelot" en 1967. Su carrera tuvo un final triste cuando un derrame cerebral le dejó sordo y se vio obligado a abandonar el negocio de la música.