Eddie Cochran, Eddie Cochran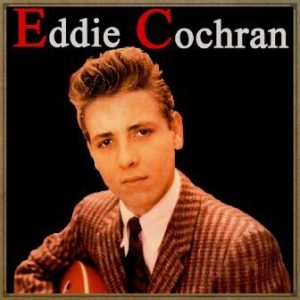 Add to favorites
Title: Eddie Cochran
Artist: Eddie Cochran
Country: USA
Date: 2010-05-08
Eddie Cochran nació y creció en Albert Lea, Minnesota. Empezó su carrera musical en 1955 con un amigo llamado Hank Cochran, que sería más tarde un letrista de música country. A pesar del apellido común, no existía entre ellos ningún lazo de parentesco. El dúo grabó como "The Cochran Brothers" sobre todo material country, aunque registraron buenos ejemplos de rockabilly primitivo en temas como "Fool´s paradise", "Latch on" o "Tired and sleepy".
Es por esta época cuando Eddie Cochran comenzó a trabajar como músico de sesión y a escribir sus propias canciones. Su encuentro con Jerry Capehart, su futuro mánager y productor, significó un gran impulso para su carrera en solitario. Con él grabó su primera maqueta con la que consiguió un contrato con Liberty records
Eddie Cochran debutó como solista en 1956 con el sencillo "Skinny Jim", un buen tema que fracasó comercialmente. Ese mismo año, Boris Petroff, le preguntó si querría aparecer en la película The Girl Can´t Help It. Eddie acordó y cantó una canción titulada "Twenty-Flight Rock" que, a pesar de tener todas las características de los éxitos del momento, no fue promocionada, aunque posteriormente se convirtió en un clásico del rock and roll versionada por muchos artistas.
En 1957, Eddie Cochran tuvo su primer éxito, "Sittin´ in the Balcony", una de sus pocas canciones escritas por otro (concretamente John D. Loudermilk). Durante ese año consiguió también algunos éxitos locales con los temas "Jeannie, Jeannie, Jeannie" y "Cut across Shorty". Su sonido por entonces no se aleja demasiado del eco y la reverberación del rockabilly, siendo considerado por muchos aficionados como uno de los puntales del género.
Sin embargo, Eddie Cochran es mucho más recordado a nivel popular por una canción escrita por él mismo, "Summertime Blues", que ayudaría a modelar el futuro del rock de finales de los años 1950 y principios de los 60, tanto lírica como musicalmente. En ella nos ofrece una nueva visión sonora del rock and roll, con la voz más rasgada y el sonido de su guitarra decididamente más metálico, que le llevaría al 9 de las listas pop de Billboard.