Echoes Of Latinoámerica, George Feyer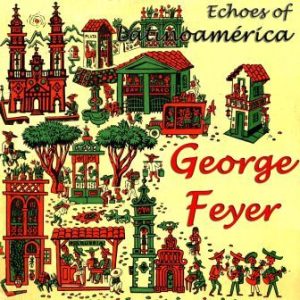 Label: Echoes Of Latinoámerica
Release date: 2010-11-01
George Feyer ( Budapest , 27 de octubre de 1908 – Nueva York , 21 de octubre de 2001 ) fue un pianista húngaro de  música pop .
El nombre original era György Fejér. George Feyer estudió piano en Budapest, en el " Franz Liszt Academy of Music , junto con Sir Georg Solti . Tuvo como maestros a Ernő Dohnanyi , Zoltán Kodály y Bartók Béla .
Después de graduarse a los 23 años, a partir de 1932 se dedicó a la música pop como pianista en clubes de renombre en Europa, entre otras ciudades, Barcelona y París . En 1939 George Feyer regresó a Hungría para estar con su familia, pero durante el último año del período de la guerra, fue encarcelado en el campo de concentración de Bergen-Belsen, donde fue rescatado en 1945 por los aliados .
George Feyer regresó a Budapest a finales de 1945 y se casó con Judith Hoffman, con quien en 1946 tuvo un hijo, Robert.
En 1948 se fue a Suiza, y después, en 1951, se trasladó con su familia a Nueva York , donde ya se había trasladado su madre y su hermano Pablo, después de la muerte de su padre.
En Nueva York George Feyer tocó en hoteles de prestigio como el Carlyle, el Stanhope y el Waldorf-Astoria . En 1953 comenzó su carrera discográfica con el álbum "Echoes of Paris". Su personalidad musical ha sido comparado con el de Victor Borge.
De 1953 a 1956 George Feyer grabó con Vox una larga y exitosa serie de discos que comenzó con" Ecos de París ", y donde grabó melodías famosas de todo el mundo. En 1957 hizo sus dos únicos discos con orquesta, dedicados Cole Porter y Jerome Kern .
También grabó para la RCA y para Decca , mientras que para el Vanguard también grabó temas de Gershwin .
En 1982 , tras la muerte de su esposa, dejó los espectáculos públicos. En 1985 se casó con Martha Cleyman.
De 1961 a 1999 George Feyer realizó semanalmente y de forma gratuita conciertos para los pacientes de Centro de Cáncer Memorial Sloan-Kettering . Murió en 2001 , a pocos días antes de su cumpleaños número 93.