Don't Fall in Love with Me, The McGuire Sisters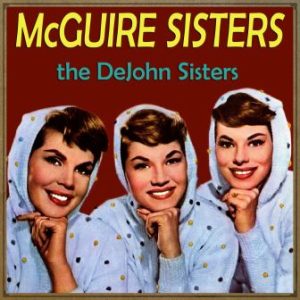 Label: Don't Fall in Love with Me
Release date: 2014-02-15
The McGuire Sisters. El grupo se componía de tres hermanas, Christine McGuire (nacida el 30 de julio 1926), Dorothy McGuire (nacida el 13 de febrero 1928), y Phyllis McGuire (nacida el 14 de febrero 1931). Entre sus canciones más populares son "Sincerely "y "Sugartime".
The McGuire Sisters nacieron en Middletown, Ohio y se criaron en Miamisburg. Cuando comenzaron en 1935, la más joven , Phyllis, tenía sólo cuatro años de edad.
En 1952, The McGuire Sisters aparecieron en Godfrey´s Talent Scouts Arthur, y, en consecuencia, Godfrey los contrató para sus espectáculos , donde permanecieron durante siete años. Actuaron ante cinco Presidentes de los Estados Unidos: (Richard Nixon, Gerald Ford, Jimmy Carter, Ronald Reagan y George HW Bush), y para la reina Isabel II.
The McGuire Sisters mantuvieron una presencia constante de televisión, haciendo apariciones frecuentes en los Shows más importantes del momento como los de  Ed Sullivan, Dean Martin, Danny Kaye, Milton Berle, Andy Williams, Perry Como y Red Skelton.
El trío se vestía y peinada de forma idéntica y realizaba  sincronizados movimientos corporales y gestos de la mano con precisión militar. Sus grabaciones de "Sincerely", "Picnic" y "Sugartime" vendieron más de un millón de copias.
En 1968, The McGuire Sisters se retiró de la interpretación. Phyllis McGuire continuó en solitario durante un tiempo. Desde entonces, las hermanas han hecho ocasionales apariciones en público.
En 1994, The McGuire Sisters fueron incluidos en el Salón Nacional de Radiodifusión de la Fama.