Dancing With The Orchestra, Enoch Light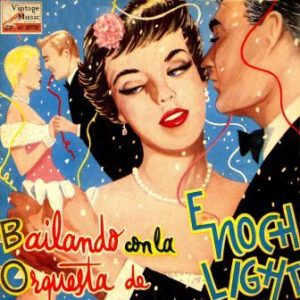 Enoch Light: Nace el 18 de agosto, Enoch Light Henry, en Canton, Ohio.
Enoch Light comenzó como un violinista clásico, actuando en los EE.UU. y Europa. Después de un accidente automovilístico casi fatal en 1940 y la Segunda Guerra Mundial interrumpió su carrera como interprete de música clásica y organizó su propia orquesta de baile, "La brigada ligera", trabajando en clubes y hoteles de todo el Nordeste, incluyendo el Grill Room del hotel Taft. Era una banda especializada en música para los bailarines de mediana edad. Grabó con esta banda para el sello RCA y Columbia.
Enoch Light se separó de la banda hacia el final de la década de 1940 y entró en nomina para varias compañías de discos antes de convertirse en presidente de Waldorf Music Hall Records en 1954. Fundó su propio sello, Grand Award, en 1956 y tuvo varios éxitos con el dixieland y tonk piano honky-álbumes grabados por grupos anónimos como "Charleston City All-Stars" and "Knuckles O´Toole" (también conocido como Dick Hyman). La discografica publico algunas de las portadas más feas de la época según los entendidos.
Enoch Light funda la Command Records. en 1959 con el objetivo específico de la capitalizar el mercado emergente de los fanáticos de música. Quería que sus grabaciones se pudieran comercializar al máximo
Él era un ingeniero de sonido meticuloso y ponía tanto esfuerzo en la calidad de su aparato de control y sistemas de producción como en la música misma. Él probó una serie de estudios de Nueva York antes de seleccionar, y él fue el primero en organizar a los músicos para adaptarse a los efectos de audio que quería lograr.
El primer LP de la "Command Records", "persuasiva y percusión," fue un gran éxito. No se parecía en nada a lo de antes porque sus ventas provenían casi exclusivamente de la venta al por menor
Enoch Light produjo innumerables grabaciones, bajo una variedad de nombres, a veces con músicos como Tony Mottola o Dick Hyman, a veces en grupos anónimos como "Los Admiradores". También siguió con su amor por la música clásica mediante la realización de una serie de grabaciones de William Steinberg y la Orquesta Sinfónica de Pittsburgh que se consideran entre los mejores de la era temprana del estéreo.
Enoch Light continuó experimentando con técnicas, convirtiéndose en uno de los primeros en usar película de 35mm para grabar en lugar de cinta magnética. Una gran ventaja del cine sobre la cinta era que las distorsiones debidas a la fricción de la cinta original en la cabeza de grabación se redujeron drásticamente.
En 1965, Enoch Light vendió Command Records para ABC Records, que fue comprada por la propia MCA unos años más tarde.
Enoch Light volvió a la escena a los pocos meses de dejar Command Records con un nuevo sello, Project 3, y rápidamente contrató a muchos de sus antiguos músicos de la era de Command Records
Enoch Light se retiró en 1974 y murió el 31 de julio de 1978