Crazy Otto and His Crazy Piano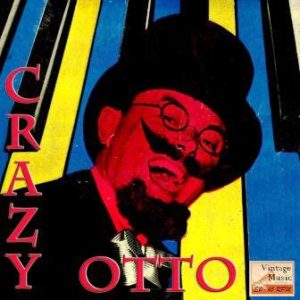 Crazy Otto. Fritz Schulz-Reichel, nacido en 1912. Hijo de un músico de escuela clásica, aprendió a tocar el piano a los seis años, y dos años después sorprendió al desarrollar un particular estilo de ejecutar, marcando el ritmo con su mano derecha mientras la melodía la interpretaba con la izquierda.
En contra de los deseos paternos, Crazy Otto dejó la música clásica para dedicarse al Jazz y la improvisación sobre melodías populares.
Su popularidad se extendió por Europa, especialmente por Inglaterra y Francia, donde fue nombrado miembro honorario del Hot Club of France. Después de la Segunda Guerra Mundial Crazy Otto triunfó en USA, a partir del éxito de Johnny Maddox, que llevó al segundo lugar de los charts "The Crazy Otto Medley" en 1955.
El interés por Crazy Otto hizo que grabara varios LP en Decca, y que se creara el sello "Crazy Otto Music", dedicado a las grabaciones de Maddox y otros músicos de ragtime. Crazy Otto falleció en 1990.