I Will Return To Paris, Cootie Williams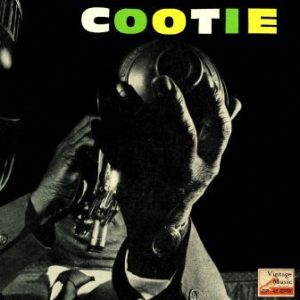 Label: I Will Return To Paris
Release date: 2010-07-23
Charles Melvin, Cootie Williams (10 julio 1911 a 15 septiembre 1985) fue un músico estadounidense de jazz y rhythm and blues y trompetista.
Nativo de Mobile, Alabama, Cootie Williams comenzó su carrera profesional en una banda joven, que incluía al saxofonista Lester Young, cuando tenía 14 años de edad. En 1928, hizo sus primeras grabaciones con el pianista James P. Johnson , en Nueva York, donde también Cootie Williams trabajó brevemente en las bandas de Chick Webb y Fletcher Henderson. Su fama comenzó como miembro de la Duke Ellington orquesta, con la que actuó desde 1929 hasta 1940.
Cootie Williams también grabó su propias sesiones durante este tiempo, tanto de forma independiente como con otros acompañantes como Ellington. En 1940 se unió a la orquesta de Benny Goodmans , y luego en 1941 formó la suya propia, en la que que empleó a Charlie Parker, Eddie "trismo" Davis, Bud Powell, Eddie Vinson, y otros jóvenes músicos importantes.
Cootie Williams comenzó a tocar más el rhythm and blues a finales de 1940. En la década de 1950 realizó una gira con grupos pequeños y cayó en el olvido. En 1962 se reincorporó a Ellington y se quedó en la orquesta hasta 1974, después de la muerte de Ellington. En 1975, actuó durante el Super Bowl
Cootie Williams nació en Mobile, Alabama el 10 de julio de 1911, murió en Nueva York, Nueva York el 15 de septiembre de 1985 en los 74 años.