Concert For Clarinet, Artie Shaw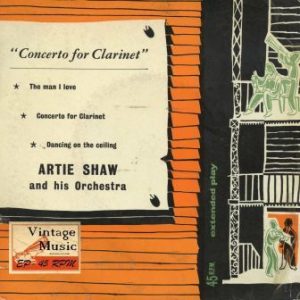 Add to favorites
Title: Concert For Clarinet
Artist: Artie Shaw
Country: USA
Date: 2009-05-14
Artie Shaw. Nacido en Nueva York, Arthur Arshawsky se educa en New Haven (Connecticut). Allí aprende a tocar el clarinete y el saxofón. Inicia su carrera en orquestas de baile. En 1926 adopta el seudónimo de Artie Shaw.
En 1929 Artie Shawse traslada a Nueva York, donde inicia una intensa actividad como músico de estudio. Colabora un tiempo en la orquesta de Paul Whiteman. De 1934 a 1935, abandona la música y se retira al campo para dedicarse a la literatura.
En 1936 Artie Shaw crea su propia orquesta, con poco éxito al principio. Sin embargo, las cosas cambian a partir de abril de 1937. Con una renovada composición de su orquesta inicia su camino hacia el éxito. En 1938 graba su primer "hit" : "Begin the beguine" de Cole Porter.
De marzo a noviembre de 1938, Billie Holiday es la cantante de la orquesta, lo que provoca algunos problemas en esas épocas de segregación racial (véase la autobiografía de la cantante : "Lady sings the blues"). La orquesta de Artie Shaw alcanza entonces su apogeo y se convierte en el principal rival del "rey del swing" Benny Goodman. Sin embargo, por segunda vez Artie Shaw se retira del mundo de la música, instalándose esta vez en México.