Citizen Kane, "It's Terrific", Bernard Hermann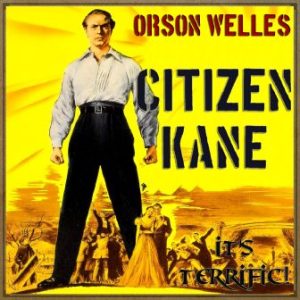 Add to favorites
Title: Citizen Kane, "It's Terrific"
Artist: Bernard Hermann
Country: USA
Date: 2011-11-11
Citizen Kane (Ciudadano Kane en España) es una película estadounidense de 1941 dirigida, escrita, producida y protagonizada por Orson Welles. Está considerada como una de las obras maestras de la historia del cine, siendo particularmente alabada por su innovación en la música, la fotografía y la estructura narrativa. Fue estrenada por RKO Pictures.
Citizen Kane, que fue la ópera prima de Welles, ganó un Óscar al mejor guion original para Herman J. Mankiewicz y el propio Welles. Ese sería el único Óscar conseguido por Welles en toda su carrera, a excepción del honorífico de 1970. También estuvo entre las candidatas al Óscar en otras ocho categorías: película, director, actor principal, dirección artística, fotografía, banda sonora, sonido y montaje.
La historia examina la vida y el legado de Charles Foster Kane, un personaje interpretado por Welles y basado en el magnate de la prensa William Randolph Hearst, así como en el propio Orson Welles. Durante su estreno, Hearst prohibió mencionar la película en sus periódicos. La carrera de Kane en la industria editorial nace del idealismo y del servicio social, pero evoluciona gradualmente en una implacable búsqueda de poder. Narrada principalmente a través de flashbacks, la historia se cuenta a través de la investigación de un periodista que quiere conocer el significado de la última palabra que dijo el magnate antes de morir: Rosebud.
Tras su éxito en el teatro con la compañía Mercury Theatre y su controvertida emisión radiofónica de La guerra de los mundos en 1938, Hollywood acudió a él. Firmó un contrato con RKO Pictures en 1939. Le dieron libertad para desarrollar su propia historia y usar su propio reparto y equipo de rodaje, algo poco frecuente para un director novel. Después de dos intentos frustrados de concretar un proyecto, desarrolló el guion de Citizen Kane con Herman Mankiewicz.
Un éxito entre la crítica, Citizen Kane fracasó en recuperar su coste en la taquilla. La película cayó en el olvido poco después, pero su reputación mejoró, primero, con la crítica francesa y, sobre todo, después de su reestreno estadounidense en 1956. Hay un cierto consenso entre la crítica de que Citizen Kane es la mejor película que se ha rodado, lo que ha llevado a Roger Ebert a decir: «Está decidido: Citizen Kane es, oficialmente, la mejor película de la historia».Encabeza la lista AFI´s 100 Years… 100 Movies y su actualización por el décimo aniversario, así como todas las votaciones de la revista Sight & Sound de las diez mejores películas durante casi medio siglo.
Reparto y personajes
En los créditos finales de la película se puede leer "La mayoría de los actores principales son nuevos en el cine. Mercury Theatre se enorgullece depresentarlos." Welles junto con su compañero John Houseman los habían reunido en un grupo conocido como los Mercury Players para actuar en sus producciones en el Mercury Theatre en 1937. Después de aceptar su contrato con Hollywood en 1939, Welles trabajaba entre Los Ángeles y Nueva York, donde el Mercury Theatre continuaba con sus emisiones radiofónicas semanales de The Campbell Playhouse. Welles quiso que todos los integrantes de los Mercury Players debutasen en su primera película, pero la cancelación de The Heart of Darkness en diciembre de 1939 supuso una crisis financiera para el grupo y algunos de los actores se buscaron otros trabajos. Esto causó discrepancias entre Welles y Houseman, y su asociación terminó.
Los ejecutivos de RKO Pictures no veían con buenos ojos que tantos papeles importantes recayeran en desconocidos, pero el contrato de Welles les impedía objetar nada. William Alland, Agnes Moorehead, Everett Sloane, Ruth Warrick y el propio Welles fueron los actores que debutaron en el filme, así como Alan Ladd quien, aún no apareciendo en los créditos, interpreta a uno de los periodistas del periódico.