Canta En Español, Connie Francis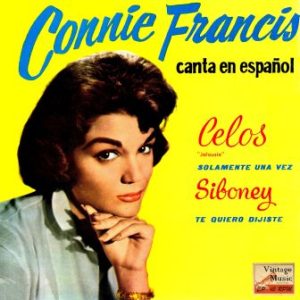 Label: Canta En Español
Release date: 2011-03-28
Connie Francis, Concetta Rosa Maria Franconero (12 de diciembre de 1938 Newark, New Jersey- ), es una cantante de música popular estadunidense. A mediados del siglo XX llegó a ser todo un ícono juvenil. En su repertorio figuran temas de muchos géneros musicales y en distintos idiomas. Algunas interpretaciones suyas de temas tradicionales en español son verdaderos clásicos en América Latina.
Acaso a instancias de sus padres, inmigrantes italianos, Connie Francis aprendió a tocar el acordeón siendo todavía una niña. Interpretaba acompañándose con su propia voz. Pronto se presentaría en programas de radio y televisión para noveles, a saber, Children´s Hour, The Ted Mack Amateur Hour y Arthur Godfrey Talent Scout Show.
Con doce años de edad Connie Francis debutó en The Startime Kids, un canal de televisión neoyorquino de la NBC. Allí la querían para que cantara y no para que tocara el acordeón, por lo cual dejó el instrumento. También se le sugirió que cambiara su nombre y apellido por otros más fáciles de pronunciar en inglés, de ahí Connie Francis.
A los dieciséis años grabó, con dinero que reunieron ella y su agente musical, su primer disco, el cual contenía las canciones "Didn´t I Love Enough", "Freddy", "(Oh Please) Make Him Jealous" y "Goody Goodbye". No obstante el débil impacto comercial de estas grabaciones, la multinacional MGM contrató a Connie Francis y lanzó su segundo disco: un sencillo con "Are You Satisfied?" y "My Treasure".
Estos temas y los que grabó luego tampoco se impusieron en el mercado, razón por la cual la MGM iba a cancelarle el contrato. Tan sólo para cumplir con este, Connie Francis, desahuciada ya de su carrera musical, grabó una versión de "Who´s Sorry Now", una canción que había sido popular bastantes años antes. El padre de Connie Francis fue el que, debido a su mucha influencia sobre ella, le mandó cantar dicha composición, a la que se le hicieron algunos arreglos para modernizarla.