Canta en Español, Andy Russell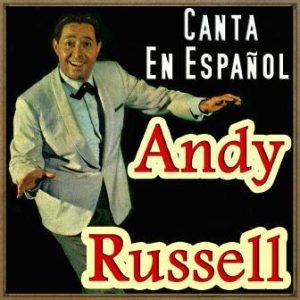 Label: Canta en Español
Release date: 2013-02-15
Andy Russell. Su nombre original era Andrés Rabago Pérez, nacido en Boyle Heights, en el este de Los Ángeles. Fue uno de los diez hijos nacidos de padres inmigrantes mexicanos, descendientes de españoles. Ya en su adolescencia Andy Russell empezó a cantar y tocar percusión con una banda local que encabezaba Don Ramón Cruz.
En los primeros años 40, tomó el nombre artístico de Andy Russell, a partir de su nombre de pila y del de uno de sus ídolos, el cantante Russ Columbo. Se hizo vocalista y percusionista con las bandas de Johnny Richards, Gus Arnheim, Sonny Dunham, y Alvino Rey. En 1944 Andy Russell ya cantaba en las radios como vocalista, al siguiente año tuvo su "Old Gold Show" y fichó por la discográfica Capitol Records.
Andy Russell tenía una voz romántica de barítono, cantó canciones en inglés y español, su primer éxito fue "Bésame mucho" (Capitol, 1944). El mismo año llegó su mayor éxito: "Amor" (Capitol, incluyendo "The Day After Forever") de la película "Broadway Rhythm". Tuvo dos éxitos más ese mismo año: "What a Difference a Day Made" (Capitol, incluyendo "Don´t You Notice Anything New?") y "I Dream of You"/"Magic Is Moonlight" (Capitol).
Andy Russell en 1946 triunfó con "I Can´t Begin to Tell You" (Capitol) de la película "The Dolly Sisters." Fue la cuarta canción entre las diez más vendidas en el país por Russell en menos de dos años.