B.S.O. Hot Rod Gang, Gene Vincent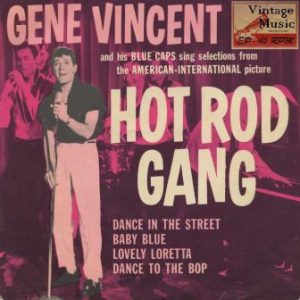 Label: B.S.O. Hot Rod Gang
Release date: 2009-05-04
Gene Vincent, cuyo nombre real era Eugene Vincent Craddock (11 de febrero de 1935 – 12 de octubre de 1971) fue un cantante de rockabilly estadounidense, conocido sobre todo por su éxito "Be-Bop-A-Lula".
Gene Vincent empezó a tocar la guitarra a una edad muy temprana. A los 17 años se alista en la armada, pero debería abandonarla después de que un accidente de moto le dejara una lesión permanente en la pierna. Tras volver a Norfolk (Virginia), empieza a tocar en varias bandas de country. Allí firma un contrato en Capitol Records junto con la banda The Blue Caps, donde el guitarrista solista era el virtuoso Cliff Gallup, uno de los instrumentistas que más han influido en los primeros años del rock.
Con ellos grabaría una sesión de la que saldría un disco de dos caras: en la cara A aparecía "Woman Love", pero sería la cara B del disco la que pincharían todos los DJ de las principales emisoras de rock and roll: la canción de la cara B se llamaba "Be-Bop-A-Lula".
En 1959 Gene Vincent fue a un programa de rock en la televisión británica, donde aparecería regularmente. Fue entonces cuando convenció a su amigo Eddie Cochran para que fuese hasta allí en una gira de doce semanas. El 17 de abril de 1960, mientras los dos cantantes y Sharon Sheeley, la novia de Cochran, iban en un taxi por Chippenham (Wiltshire), sufrieron un accidente de circulación que acabaría con la vida de Cochran (y de paso le convertiría en un mito del rock and roll) y agravaría la lesión en la pierna de Vincent, dejándole una cojera de por vida.
En los años 60, la carrera de Gene Vincent casi había acabado en los Estados Unidos, aunque mantenía un público fiel en Europa, especialmente en Inglaterra y Francia. Hizo algunas giras esporádicas más, algunas en compañía de cantantes tan ilustres como los Beatles (los cuales copiaron su indumentaria de cuero negro en sus años en Hamburgo), John Lennon, Chuck Berry o Jerry Lee Lewis. Pero en general su carrera estaba acabada. Sus discos no se vendían y después de unas apariciones de poco éxito en el Festival del parque de San Francisco, volvería a su casa de Los Ángeles. Poco después,  Gene Vincent, sería ingresado en el hospital Inter-Valley de New Hall (California), aquejado de una úlcera sangrante de estómago. Moriría el 12 de octubre de 1971 a la edad de treinta y seis años.