Arthur "Guitar Boogie" Smith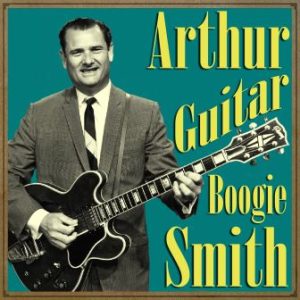 Label: Arthur "Guitar Boogie" Smith
Release date: 2015-06-21
Arthur Smith nació el 1 de Abril de 1921 en Clinton, South Carolina). Músico y compositor.
Arthur Smith obrero de la industria textil que se convirtió en un respetado compositor de música country instrumental, guitarrista, violinista e instrumentista de banjo qçue tuvo un éxito grande con el instrumental "Guitar Boogie". El tema le proporcionó el apodo de Arthur "Guitar Boogie" Smith (para diferenciarle del fiddler de Tennessee y estrella del Grand Ole Opry de la década de los 30, "Fiddlin'" Arthur Smith) y sería grabado por muchos otros incluyendo su adaptación al rock and roll de la mano de Frank Virtue and The Virtues, que se convertiría también en gran éxito rebautizado como "Guitar Boogie Shuffle". Virtue sirvió en la Marina con Smith y le señaló como una influencia notable en su carrera. Entre otros músicos influidos por Smith se incluyen el as de los estudios de Nashville, Hank "Sugarfoot" Garland, Roy Clark y pioneros de la música surf como The Ventures.
En 1955, Arthur Smith y Don Reno escribieron y grabaron un instrumental de bajo que titularon "Feudin' Banjos", y que figuró en el popular film de 1972 "Deliverance", con el título de "Dueling Banjos",  tocado por Eric Weissberg y Steve Mandel. Al no estar acreditado como compositor, Smith inició acciones legales que finalmente le otorgaron el crédito como compositor y la recuperación de los royalties.
Smith era hijo de un trabajador textil que también dirigía la banda del pueblo en Kershaw, Carolina del Sur; su primer instrumento fue la corneta. Arthur Smith, junto a sus hermanos Ralph y Sonny formaron un Dixieland combo, The Carolina Crackerjacks, que apareció brevemente en la radio de Spartanburg, Carolina del Sur; tuvieron un éxito limitado con su formato jazz, y se reconvirtieron en un grupo hillbilly más popular antes de Arthur Smith se trasladara a Charlotte, Carolina del Norte, para unirse al elenco del WBT Carolina Barndance, que era un espectáculo en vivo y a la vez programa de radio. Antes de la IIª Guerra Mundial, era miembro ocasional de la WBT Briarhoppers band.