Art Decó Vocal Jazz of the 30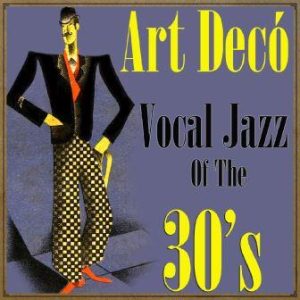 Add to favorites
Title: Art Decó Vocal Jazz Oh the 30's Various Artists
Artist: Various Artists
Date: 2013-05-01
Songs:
01 Am I Blue
Artist: Ethel Waters

Songwriter: G. Clarke, H. Akst

03 Gimme a Pigfoot
Artist: Bessie Smith

Songwriter: S. Wilson

07 Ain't It the Truth
Artist: Lena Horne

Songwriter: John Latouche, Harburg, Arlen, Duke

08 From Monday On (Recording 1928)
Artist: Bing Crosby

Songwriter: Barris, Crosby

09 I Cried for You
Artist: Billie Holiday

Songwriter: Freed, Armheim, Lyman

10 T'ain't What You Do
Artist: Trummy Young, Louis Armstrong

Songwriter: Oliver, Young

11 It Had to Be You


Artist: Willie Smith And Trio

Songwriter: Gus Kahn, Isham Jones

12 My Blue Heaven (Vocal)


Artist: Betty Owens

Songwriter: Whiting

13 Baby Won't You Please Come Home
Artist: Bix Beiderbecke

Songwriter: Williams, Warfield

14 Rock Me


Artist: Rosetta Tharpe

Songwriter: Thomas A. Dorsey

15 Five Foot Two, Eyes of Blue
Artist: Somethin' Smith, The Redheads

Songwriter: Lewis, Young, Henderson

16 Keep Smiling, Keep Laughing, Be Happy


Artist: Joe Thomas

Songwriter: Lou Singer

17 Painting the Clouds with Sunshine
Artist: Nick Lucas

Songwriter: Joe Burke, Al Dubin

18 After You've Gone
Artist: Jack Teagarden

Songwriter: Creamer, Layton

19 Louisville Lady
Artist: Isham Jones, Eddie Stone

Songwriter: Hill, De Rose

20 Oh, Miss Hannah
Artist: The Four Knights

Songwriter: T. Hollingsworth, J. Deppen

21 Ain't She Sweet (Vocal)


Artist: Frank Assunto

Songwriter: Ager

22 Twenty-Four Robbers


Artist: James "Trummy" Young

Songwriter: James Young, Ted Buckner

24 When the Saints Go Marching In


Artist: Lu Watters

Songwriter: Traditional
El art déco (también art decó o inclusoart deco) fue un movimiento de diseño popular a partir de 1920 hasta 1939 (cuya influencia se extiende hasta la década de 1950 en algunos países) que influyó las artes decorativastales como arquitectura, diseño interior, y diseño gráfico e industrial, también a las artes visuales tales como la moda, pintura, grabado, escultura y cinematografía.
Después de la Exposición Universal de 1900 de París, varios artistas franceses (Hector Guimard, Eugène Grasset, Raoul Lachenal, Paul Follot,Maurice Dufrene y Emile Decour) formaron un colectivo formal dedicado a las artes decorativas de vanguardia.
En 1925 organizaron la Exposition Internationale des Arts Décoratifs et Industriels Modernes (Exposición Internacional de Artes Decorativas e Industriales Modernas) en París, y se llamaron a sí mismos los modernos; en realidad, el término art déco se acuñó en la retrospectiva titulada "Les Années 25″, llevada a cabo en París en el Musée des Arts Décoratifs (Museo de Artes Decorativas) del 3 de marzo al 16 de mayo de 1966; el término es por lo tanto un apócope de la palabra francesadécoratif. En inglés suele suprimirse la tilde y se escribe "deco".
En español, la RAE lo ha normalizado como art déco, con la tilde en la «e».

Belle Epoque Recopilaciones Vintage Vocal Jazz
Favorites
Your favorites will be here.
Apple
Spotify
Genre