Afro Cuban Jazz, Various Artists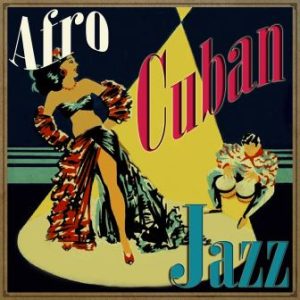 Add to favorites
Title: Afro Cuban Jazz
Artist: Various Artists
Country: Cuba
Date: 2015-03-03
Songs:
04 Agua Que No Has de Beber
Artist: Generoso Jiménez

Songwriter: J. Martínez Abades

05 Qué Quieres Amigo?
Artist: Rolando Aguiló

Songwriter: Félix Hernández

06 Cerveza


Artist: Candita Vázque

Songwriter: M. Rogers

07 Almendra


Artist: Carlos Arado

Songwriter: A. Valdés

09 Solitos Tú y Yo (Descarga)
Artist: Felo Bergaza

Songwriter: Traditional

10 Caravan
Artist: René Touzet

Songwriter: Mills, Ellington, Tizol

12 Silent Island (Afro-Congo)
Artist: Mongo Santamaría

Songwriter: Roland L. Buck, Hood

14 Matzo Ball Con Rumba
Artist: Joe Loco

Songwriter: Esteves Jr., Hernández

15 Maracaibo Oriental (Guapachá)


Artist: Oreste López "Cachao"

Songwriter: José A. Castanedo

16 My Latin Twist


Artist: Walfredo De Los Reyes

Songwriter: Walfredo De Los Reyes

17 La Floresta
Artist: Cachao

Songwriter: O. López

19 Three Loaves of Bread


Artist: Orlando "Cachaito" López

Songwriter: F. Emilio, Barreto, T. Guines / Papito

20 Mambo Inn


Artist: Walfredo De Los Reyes Jr.

Songwriter: Tito Puente

22 Alma Llanera
Artist: Peruchín, Sus Big Leaguers

Songwriter: Pedro Elías Gutierrez

23 Montuno en Cha Cha Cha
Artist: Rolando Aguiló

Songwriter: Joaquín Mendivel

24 Son Dos Luceros
Artist: René Touzet

Songwriter: S. Marmolejo

28 El Relicario


Artist: Candita Vázquez

Songwriter: Padilla
Afro Cuban Jazz, Various Artists
El jazz afrocubano (en inglés, afro cuban jazz) es un subgénero del jazz, surgido en la década de 1940 e integrado en el llamado jazz latino, del que fue su primer ejemplo consolidado. Se trata de un ejemplo de género de fusión, procedente de la interrelación entre el be bop y la música cubana(en especial, el son montuno).
Los principales artistas que encontramos en la génesis y desarrollo del Afro Cuban Jazz, fueron Mario Bauzá, Machito, Chano Pozo, Dizzy Gillespie y Tito Puente. A finales de los años 1940, se conoció como Cu bop, nombre derivado de las palabras "Cuba" y "Be bop".

Afro-Cuban Jazz Jazz Latin Music Recopilaciones Vintage
Favorites
Your favorites will be here.
Spotify
Deezer
Genre