Accordion And Swing, Dick Contino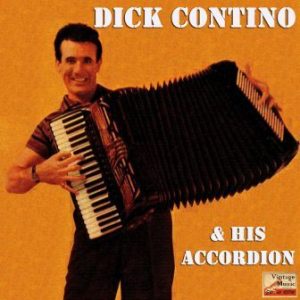 Dick Contino
(17 de enero de 1930, en Fresno , California ) es un  acordeonista y cantante americano.
Dick Contino 
contino estudió acordeón principalmente en San Francisco y, ocasionalmente, en Los Angeles. desde el  principio se mostró como  un gran virtuosismo del instrumento. Aunque
Dick Contino 
se graduó de la High School de Fresno en 1947 y se matriculó en la Universidad Estatal de Fresno , fue incapaz de concentrarse en sus estudios.
Contino explicó: "Me gustó la universidad, pero mientras asistía a clases me quedé pensando que si quería el  éxito, sería la  música la que me llevaría allí."
Dick Contino tuvo su gran oportunidad el 7 de diciembre de 1947, cuando tocó Lady of Spain  y ganó el primer premio en el Heidt Horacio / Philip Morris, concurso de talentos en Fresno que fue transmitido por  la radio a nivel nacional. Dick Contino también ganó el primer premio en concursos posteriores en Los Ángeles, Omaha , Des Moines , Youngstown , Cleveland , Pittsburgh , Harrisburg , y en la ciudad de Nueva York .
Dick Contino ganó el primer premio  en la ronda final el 12 de diciembre de 1948 en Washington, DC . Contino consiguió el exito con el single Lady of Spain  a principios de 1949. La canción alcanzó el puesto 47 en las listas de éxitos EE.UU..
Cuando Dick Contino iba de gira con la Orquesta de Horacio Heidt,  fue anunciado como el "más grande acordeonista del mundo". Él apareció en el Show de Ed Sullivan, un récord de 48 veces.