The Greatest Twist Hits!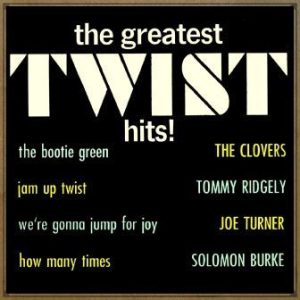 Add to favorites
Title: The Greatest Twist Hits!
Artist: Various Artists
Date: 2012-09-21
The Twist
El Twist es un baile basado en el rock and roll muy popular a comienzos de la década de 1960, llamado así a partir de una canción que lo originó: The Twist. Fue el primer estilo internacional de baile basado en el rock and roll, donde las parejas no se tocaban mientras bailaban.
Este baile lo popularizó Chubby Checker en 1960 con su versión del tema de The Twist compuesto por Hank Ballarden 1959. La versión de Checker llegó al número uno de los ránkings en los Estados Unidos, y se convirtió en el poseedor de un récord al ser el primer sencillo en alcanzar el primer lugar dos veces en años diferentes. La primera vez en 1960 y luego en 1962.
A España el Twist llegó en 1962, y fue entonces cuando grupos y solistas comenzaron a versionar y crear nuevos twist. Algunos de ellos son Lolita twist,1 el twist de la risa,2 flamenco twist, el twist del reloj etc.
En América Latina, la locura por el Twist se desató también entre los años 1960-1962 pero no por las versiones de Checker o Ballard, sino por la de Bill Haley & His Comets. En México, fueron grandes éxitos temas "The Spanish Twist", "Florida Twist y "Twist-er", donde la banda consiguió el reconocimiento de ser los iniciadores del baile de moda.