Bottoms Up, Polka, Spike Jones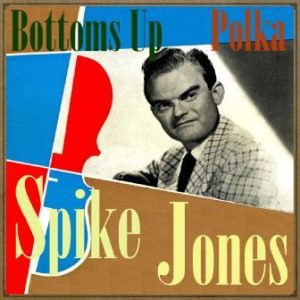 Add to favorites
Title: Bottoms Up, Polka
Artist: Spike Jones
Country: USA
Date: 2012-03-24
Spike Jones, Lindley Armstrong "Spike" Jones (14 de diciembre de 1911 – 1 de mayo de 1965) fue un músico y líder de banda estadounidense especializado en los arreglos satíricos de canciones populares. A lo largo de las décadas de 1940 y 1950 su orquesta grabó bajo el título de Spike Jones and his City Slickers, y viajó por los Estados Unidos y Canadá con el nombre de The Musical Depreciation Revue.
Nacido en Long Beach (California), su verdadero nombre era Lindley Armstrong Jones. Su padre trabajaba en el ferrocarril Southern Pacific. El joven Spike Jones consiguió su apodo a causa de su delgadez, pues le comparaban con un clavo ferroviario.
A los 11 años de edad consiguió su primera batería. Siendo adolescente tocaba en bandas formadas por él mismo, y un empleado de restaurante de ferrocarril le enseñó cómo utilizar instrumentos de cocina para que sonaran como instrumentos musicales.Frecuentemente Spike Jones tocaba en orquestas teatrales, y en la década de 1930 se sumó a la orquesta de Victor Young, llegándole de ese modo diferentes ofertas para actuar en shows radiofónicos, incluyendo el de Al Jolson Lifebuoy Program, Burns and Allen, y el de Bing Crosby Kraft Music Hall. Entre 1937 y 1942 fue percusionista de la John Scott Trotter Orchestra, la cual tocaba en la primera grabación de Bing Crosby de White Christmas.
Spike Jones formó parte de un conjunto que tocaba para la compositora Cindy Walker en sus primeras grabaciones para Decca y Standard Transcriptions. Su canción "We´re Gonna Stomp Them City Slickers Down" inspiró el nombre de la futura orquesta de Jones, los City Slickers.