I Get A Kick Out Of You!, Roger Williams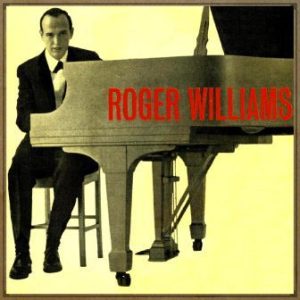 Label: I Get a Kick Out of You!
Release date: 2012-10-01
Roger Williams (1 octubre 1924 –  8 octubre 2011), su verdadero nombre era  Louis Jacob Weertz. Era un popular pianista americano . Hasta  2004, se había  publicado 116 discos.
Roger Williams comenzó a tocar el piano cuando era niño, pero su afición eran el boxeo cuando era un estudiante de secundaria. Después de sufrir varias lesiones – incluyendo que le rompieron la nariz varias veces –  decidió centrar su atención en la música. Como estudiante,Roger Williams comenzó a tocar jazz, clásica y pop. Un funcionario de la escuela le oyó  tocar "Smoke Gets in Your Eyes" en una de las salas de la universidad y le expulsaron de la univerisdad
Después de su expulsión, Roger Williamsse unió a la Marina de Guerra, donde obtuvo una licenciatura en ingeniería. Cuando su permanencia en la Armada se terminó, volvió a Drake y volvió a la universidad. Después de un par de años, se trasladó a Juilliard, donde estudió con el pianista Lennie Tristano y Teddy Wilson.
La primera gran oportunidad de Roger Williams llegó cuando iba a acompañar al piano a un vocalista en el Arthur Godfrey Talent Scouts. El cantante no se presentó en el show, dejándole  tocar  en solitario. David Kapp escuchó a Roger Williams en la audición y se quedó impresionado. Kapp firmó el pianista de un contrato y cambió su nombre de Louis Weertz por el de  Roger Williams, el nombre deriva del fundador de Rhode Island.