Humphrey Lyttelton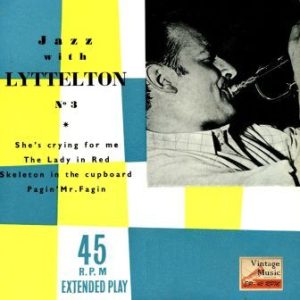 Add to favorites
Title: Jazz With Lyttelton
Artist: Humphrey Lyttelton
Country: UK
Date: 2009-07-21
Humphrey Lyttelton  (23 de Mayo de 1921 – 25 de Abril de 2008)
Humphrey Lyttelton, además de músico de jazz, se convirtió en una personalidad de los medios de comunicación, especialmente como presentador del popular programa de ingenio y humor de la radio, I´m Sorry I Haven´t a Clue , que podríamos traducir como "Lo siento, no tengo idea".
Pertenecía a una familia aristocrática del Reino Unido. Era primo del décimo Visconde Cobham y bisnieto del político y deportista Alfred Lyttelton, el primero en representar a Inglaterra tanto en el fútbol como en el cricket.
Durante mucho tiempo, especialmente en las décadas de los años 40 y 50, Humphrey Lyttelton se transformó en uno de los grandes exponentes del jazz inglés. Su forma de tocar trompeta le llevó a un reconocimiento internacional.
En 1949 Humphrey Lyttelton grabó con el legendario Sidney Bechet y a los pocos años tuvo sus propios éxitos de grabación y ventas con la composición Bad Penny Blues, que se mantuvo en los primeros lugares de la cartelera británica durante seis semanas.
Humphrey Lyttelton también contribuyó al mundo de la música rock y pop, al grabar con su trompeta la introducción del tema So You Want To Be A Rock And Roll Star del conjunto The Byrds. También colaboró en grabaciones de la banda Led Zeppelin.
Pero su pasión fue el jazz. Humphrey Lyttelton grabó composiciones suyas y de grandes del jazz como Duke Ellington y Dizzy Gillespie. Lo hizo con conjuntos pequeños y agrupaciones grandes.
La NASA le invitó a ir a Estados Unidos en 1968 para tocar una serie de temas de jazz que fueron transmitidos al espacio, a la tripulación del proyecto espacial Apolo 8.