All Right, OK, You Win, The Nicholas Brothers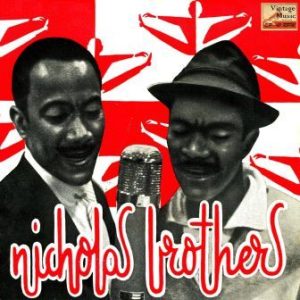 Add to favorites
Title: All Right, OK, You Win
Artist: The Nicholas Brothers
Country: USA
Date: 2011-01-14
The Nicholas Brothers
Fayard y  Harold  eran dos hermanos que dedicaron cuerpo y alma al mundo del claqué y la danza inspirada en los ritmos negros del jazz.
Sus espectáculos fueron llevados en diversas ocasiones al celuloide, y desarrollaron en los años 20 y 30 un estilo de baile acrobático llamado entonces "Flash Dance". Pronto surgieron imitadores y competidores como los The Four Step Brothers y los Berry Brothers.
A la edad de tres Harold años se sentaba junto a su hermano Fayard entre el público del Teatro de Vaudeville donde sus padres actuaban. Y tuvieron la oportunidad de ver en directo actuaciones de diferentes artistas como Bill "Bojangles" Robinson.
Eso fué suficiente para que The Nicholas Brothers se metiesen de lleno en el mundo de la música y la danza , y pronto comenzaría a bailar juntos. Con tan solo 9 años (Harold) y su hermano (Fayard) 16 tuvieron su primera aparición en el legendario Cotton Club de Nueva York, y el público sencillamente experimentó amor a primera vista.