Collegiate, The Andrews Sisters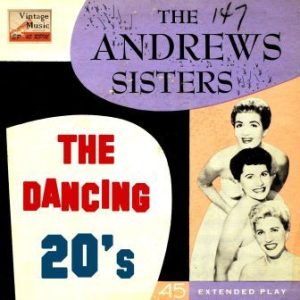 Label: Collegiate
Release date: 2010-06-21
The Andrews Sisters
The Andrews Sisters (LaVerne Andrews, 1915-1967); Maxene Andrews (1915, 3 de enero) y Patty Andrews (1920, 16 de febrero), de origen familiar greconoruego, debutaron juntas en un espectáculo para niños, y su enorme éxito animó a sus padres a seguir fomentando en ellas el gusanillo de la comedia musical. Ya de adolescentes, The Andrews Sisters emprendieron una intensa actividad músico-teatral en espectáculos de vodevil, y en otros locales de bajo relieve.
Su oportunidad les llegó de pronto con un tema que vendió para aquella época miles de copias que se titulaba: «Bei Mir Bist Du Schoen» que en 1937 las convirtió en estrellas famosas de la canción para el publico norteamericano.
The Andrews Sisters, quisieron, sin conseguirlo, imitar la calidad jazzistica de las «Boswell Sisters» un grupo vocal de enorme calidad liderado por Connie Boswell. Su éxito se sustentó en los años previos y posteriores a la II Guerra Mundial donde fueron invitadas varias veces por el Departamento de Estado norteamericano para que fueran al frente a animar a sus tropas.
Dentro de The Andrews Sisters, la dirección musical era llevada a cabo por Patty, encargada de los arreglos y de la mayoría de los solos. Las discusiones y desavenencias en el seno del trío eran muy frecuentes y terminaron por disolver el grupo en 1953.
Tres años mas tarde hubo un intento de reconciliación pero duró apenas unos meses. Patty Andrews, decidió continuar su carrera en solitario y tras el fallecimiento de La Verne en 1957, definitivamente The Andrews Sisters pasó a la historia.