Plays Lecuona, The First Piano Quartet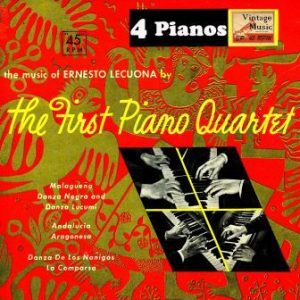 Add to favorites
Title: Plays Lecuona
Artist: The First Piano Quartet
Country: USA
Date: 2010-08-13
The First Piano Quartet fue un cuarteto de pianistas de  Estados Unidos creado en 1941. Sus socios fundadores fueron Vladimir Padwa , Franz Mittler , Garner Adán, y Edson Eduardo. El cuarteto fue concebido originalmente como un grupo de radio. Hizo su debut en Nueva York dando conciertos en 1949.
The First Piano Quartet viajó extensamente con sus cuatro pianos Steinway durante la década de 1950, y realizó grabaciones en los años 1940 y 1950. La mayoría de sus composiciones  fueron hechas por Adam Garner.
En 1950, fue sustituido por Padwa George Robert. En la década de 1950, Glauco D´Attili se convirtió en el miembro más reciente. D´Attili, un ex niño prodigio fué traído a los Estados Unidos en 1927 por Benjamino Gigli y fue, probablemente, el más conocido del grupo.
The First Piano Quartet se presentó, junto con Edward Edson, Garner Adán, y Mittler Frank, en dos cortos de la película para la 20th Century Fox en 1954. Ambos fueron dirigidos por Otto Lang , y el primer cuarteto de piano fue nominado para un premio de la academia en 1954 en la categoría de mejor cortometraje.
The First Piano Quartet también apareció en  El Show de Ed Sullivan  y en El Show de Lawrence Welk .
A mediados de la década de 1950 D´Attili fue sustituido por William Guntherand el cuarteto cambió su denominación a la del Cuarteto para piano original. El cuarteto apareció bajo su nuevo nombre en el Town Hall, de Nueva York el 29 de marzo de 1962.  D´Attili, el último miembro sobreviviente del cuarteto, murió en otoño de 2007.