The Everly Brothers, The Everly Brothers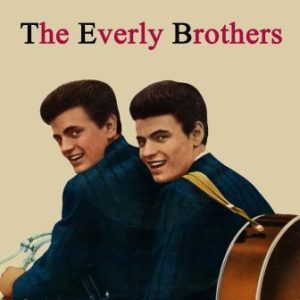 Label: The Everly Brothers
Release date: 2009-01-16
The Everly Brothers
Mejor conocidos por su guitarra acústica y su canto en armonía cerrada (que se caracteriza por acordes con pequeños intervalos), Don, el hermano mayor, nació en Brownie, una pequeña ciudad hoy extinta en las afueras de Central City, Kentucky, EE.UU. Phil nació en Chicago. Hijos de dos amantes de la música Country, (Ike y Margaret Embry Everly, los hermanos crecieron en Iowa. Tocaron junto con sus padres en radio en vivo y en shows en vivo no muy importantes en el oeste de EE.UU.
Al entrar a la adolescencia, The Everly Brothers lograron un breve contrato con Columbia Records,siendo su primer sencillo The Sun Keeps Shining,sin éxito pero captan la atención del reconocido guitarrista y exitoso artista de música country Chet Atkins ,y le comenta sobre ellos y consigue una audición con el director de Cadence Records , Wesley Rose quien al coincidir con Atkins sobre su talento les contrata para Cadence y es a partir de entonces que los Everly surgen a la fama.
Al ser ambos buenos guitarristas, The Everly Brothers usaban un estilo de armonía cerrada en el que cada uno cantaba un tono que normalmente sonaba como una melodía pausada. En comparación con la armonía tradicional que son dos o más voces con el ritmo parecido y distintos tonos.Utilizaban guitarras de la marca Gibson,usando un efecto de guitarra llamado Trémolo en algunas de sus canciones,Gibson incluso saco en su honor una edición limitada de la guitarra Gibson Jumbo Everly Brothers
La canción que les llevó al éxito en 1957 fue «Bye Bye love», esta composición había sido rechazada por numerosos artistas debido a su deprimente letra, pero ellos la grabaron y llegaron rápidamente al número 1 en las listas.
Sus armonías vocales, su aspecto de chicos buenos y la calidad de sus canciones hizo que los The Everly Brothers fueran aceptados por varias generaciones de estadounidenses, siendo habituales de los programas de televisión de la época.
Otros éxitos fueron «wake up little suzie», «All I have to do is dream» y «let it be me».
A finales de los 60 The Everly Brothers se separaron debido a la falta de acogida de un público muy cambiado y a las malas relaciones entre ellos.
The Everly Brothers se volvieron a reunir fugazmente en 1985, y desde entonces en alguna que otra ocasión