The Chordettes A Capella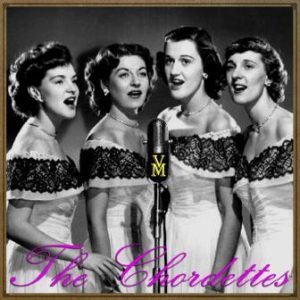 Add to favorites
Title: The Chordettes A Capella
Artist: The Chordettes
Country: USA
Date: 2010-12-23
The Chordettes fueron un cuarteto femenino de pop, que cantaban generalmente a capella, especializado en la música popular tradicional. Fueron uno de los grupos vocales de más larga duración, con inicio en la corriente principal del pop y armonías vocales de la década de 1940 y principios de 1950.
The Chordettes se crea en 1946 en Sheboygan, Wisconsin, formado originalmente por Janet Ertel (21 de septiembre de 1913 – 4 de noviembre de 1988), Carol Buschmann, su hermanastra, Dorothy Schwartz y Jinny Osborn (o Jinny Lockard) (25 de abril de 1928 – 19 de mayo de 2003).
En 1952 Lynn Evans sustituirá a Schwartz y en 1953, Margie Needham sustituye a Osborn, cuando iban a ser madres, aunque esta última regresó más tarde al grupo. Nancy Overton (6 de febrero de 1926 – 5 de abril de 2009) también perteneció al grupo en un momento posterior.
Originalmente The Chordettes cantaban música popular al estilo de The Weavers, pero con el tiempo cambiaron a un estilo de armonización del tipo conocido como barbershop o close harmony.
Arthur Godfrey descubrió a  The Chordettes en su programa de radio Arthur Godfrey´s Talent Scouts, pasando a ser fijas durante los años 1950 y 1954. En 1953, el director musical de Godfrey y director musical, Archie Bleyer, funda la compañía Cadence Records que realizaría grabaciones de los cantantes y grupos que habían pasado por el programa, incluidas The Chordettes.
Su primer gran éxito fue Mister Sandman en 1954, del que se vendieron más de un millón de copias. A este éxito le siguieron otros muchos durante los años 1950 y 1960, a menudo con versiones de canciones de rock y R & B.
Cambios en el grupo y la pérdida del éxito las hizo desaparecer, aunque en los años 1990 el grupo reaparece con Lynn Evans, Nancy Overton y su hermana Jean Swain, más Doris Alberti, en una serie de conciertos con Eddy Arnold. De esta gira existe una grabación en casete de un concierto en vivo en Branson, Missouri.