Paul Simon publicará 'In The Blue Light', su nuevo disco, en septiembre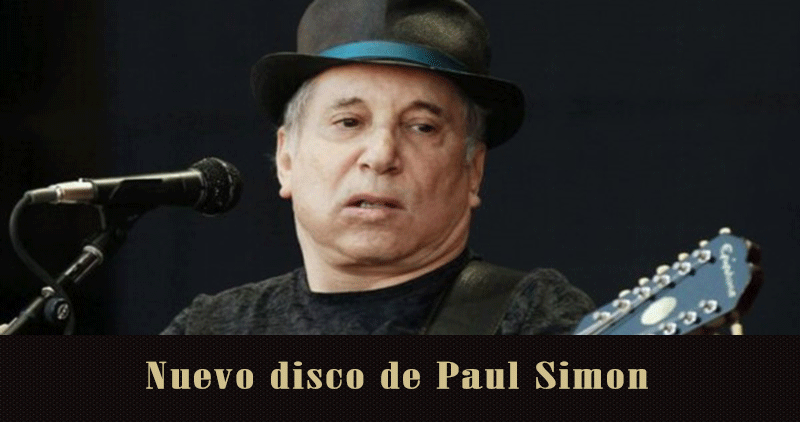 Paul Simon publicará su decimocuarto álbum de estudio el 7 de septiembre con el título de In The Blue Light. Producido por Simon y Roy Halee, que han trabajado juntos desde los años sesenta, en el álbum participan músicos que se han unido a Simon en la creación una nueva perspectiva de los diez temas favoritos del artista (aunque quizás menos conocidos) y que forman parte de su extensa obra.
Al revisar su repertorio, Simon ha seleccionado canciones que aparecieron originalmente en There Goes Rhymin' Simon (1973), Still Crazy After All These Years (1975), One-Trick Pony (1980), Hearts and Bones (1983), The Rhythm of The Saints (1990), You're The One (2000) y So Beautiful Or So What (2011), dándoles un nuevo giro y trasformando las composiciones utilizando nuevos arreglos y colaboraciones.
Entre los varios músicos que se unieron a Simon en In The Blue Light se encuentran iconos del jazz como el trompetista Wynton Marsalis, el guitarrista Bill Frisell y los baterías Jack DeJohnette y Steve Gadd.
Además, hay dos composiciones grabadas con yMusic (el sexteto de cámara establecido en Nueva York) Can't Run But y Rene and Georgette Magritte with Their Dog After the War, que Simon interpreta en cada uno de los conciertos de la gira Homeward Bound – The Farewell Tour.
Simon explica en el texto que se incluye en el álbum: "No suele ocurrir que un artista tenga la oportunidad de revisar trabajos anteriores y poder reinterpretarlos y plantearlos de otra manera; modificando e incluso cambiando partes originales" "Por suerte, la oportunidad también me dio el regalo de tocar con un grupo extraordinario de músicos, con muchos de los cuales todavía no había tocado anteriormente. Espero que los oyentes encuentren renovadas estas versiones de viejas canciones, como si fuera una nueva mano de pintura en las paredes de una antigua casa familiar", señala.
El lanzamiento de In The Blue Light el próximo 7 de septiembre coincide con el final de la gira Homeward Bound – Farewell Tour ese mismo mes, que incluye cuatro actuaciones en la región de Nueva York y termina con un último concierto el 22 de septiembre en el Flushing Meadows Corona Park.
Las canciones del álbum son One Man's Ceiling Is Another Man's Floor, Love, Can't Run But, How The Heart Approaches What It Yearns, Pigs Sheep and Wolves, René and Georgette Magritte With Their Dog After the War, The Teacher, Darling Lorraine, Some Folks' Lives Roll Easy y Questions For The Angels.
Habiendo creado una obra musical con sello propio y admirada por todo el mundo que incluye 14 álbumes de estudio (y otros cinco como parte de Simon & Garfunkel), Paul Simon ha recibido 16 Grammys, tres de los cuales fueron concedidos en la categoría Álbum del año por Bridge over Troubled Water, Still Crazy after All These Years, y Graceland.
En 2003, recibió un Premio Grammy a la Trayectoria por su trabajo con Simon & Garfunkel. Paul Simon vendió más de 100 millones de discos en todo el mundo.
Paul Simon es miembro del Hall de la Fama de Compositores y ha pasado a formar parte del Hall de la Fama del Rock 'n' Roll, como artista solista y como integrante de Simon & Garfunkel. El músico ha recibido el Reconocimiento del Centro Kennedy en 2002 y fue nombrado una de las 100 personas que transforman nuestro mundo según la Revista Time en 2006.
En 2007, Simon recibió el primer Premio Gershwin de la Biblioteca del Congreso a la Canción popular, que reconoce el efecto profundo y positivo de la música popular en la cultura del mundo. Fue elegido miembro de la Academia Estadounidense de Artes y Ciencias en 2011. En 2012, recibió el prestigioso Premio Polar Music junto al chelista clásico Yo-Yo Ma.
Ver más en: https://www.20minutos.es
19 July 2018 Vintage Music Uncategorized