Greta Keller nació en Viena, Austria, el 8 de febrero de 1903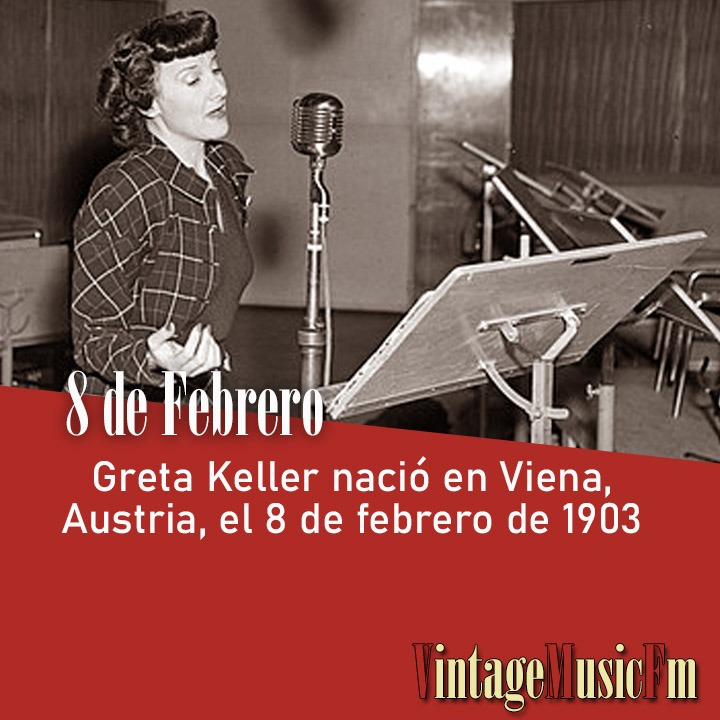 Greta Keller
Greta Keller-Bacon (Margaretha Keller) (*8 de febrero de 1903; Viena, Austria- † 11 de noviembre de 1977, Viena) fue una cantante y actriz vienesa que triunfó en Alemania y Estados Unidos. Cantó en alemán, francés e inglés combinando el estilo alemán con el norteamericano con su grave voz de mezzosoprano.
Greta Keller nació en Viena, debutó en teatro en Pavillon, junto a Peter Lorre y apareciendo junto a Marlene Dietrich en Broadway . El gran director de teatro Max Reinhardt decía "su voz es de aquellas que sólo Dios puede destruir"
En 1929 Greta Keller fue contratada para grabar discos en Praga y luego Berlin, donde se consagró. Fue apodada The Great Lady Of Chanson.
Greta Keller abandonó Alemania hacia 1938 y durante la Segunda Guerra Mundial residió en Nueva York.
En Hollywood se casó con David Bacon, actor hijo del gobernador de Massahussets, Gaspar Bacon, un asociado de J.P. Morgan, y posteriormente secretario de estado para Theodore Roosevelt. Bacon fue asesinado en 1943 – era protegido de Howard Hughes.
El canto la llevó a París sin perder nunca su acento vienés con un estilo semejante a la berlinesa Marlene Dietrich y a Nueva York, al club del Waldorf-Astoria Hotel durante 1960-62 en números de Paul Anka, Noel Coward y Jacques Brel y en el Palace-Hotel de Saint Moritz durante una década.
Desde 1973 a 1977 Greta Keller vivió con Wolfgang Nebmaier
  
Event Details