Gordon MacRae nació en East Orange, Nueva Jersey, Estados Unidos, el 12 de marzo de 1921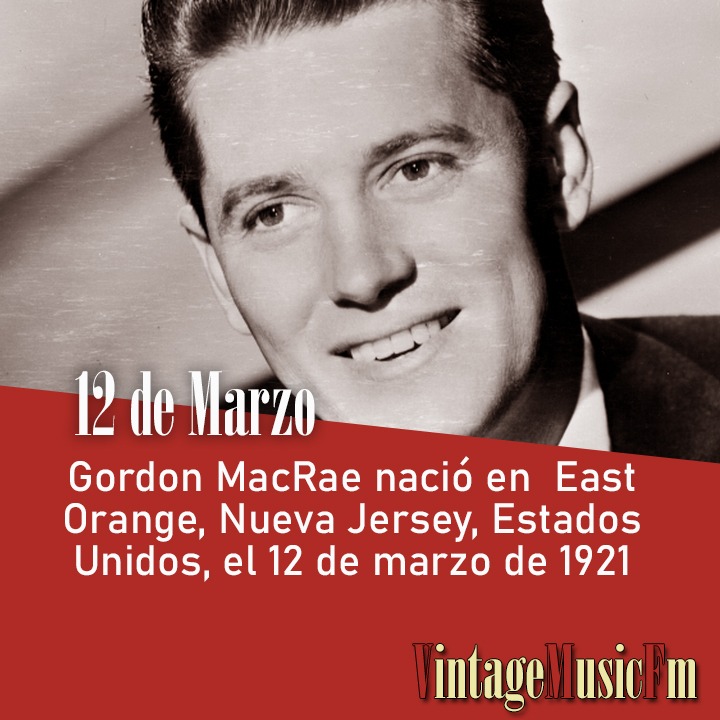 Gordon MacRae
Gordon MacRae (March 12, 1921 – January 24, 1986) was an American actor and singer, best known for his appearances in the film versions of two Rodgers and Hammerstein musicals, Oklahoma! (1955) and Carousel (1956) and films with Doris Day like Starlift.
Born in New Jersey, Gordon MacRae graduated from Deerfield Academy in 1940 and served as a navigator in the United States Army Air Forces during World War II. Prior to this, he attended Nottingham High School in Syracuse, NY.
He made his Broadway debut in the mid-1940s, acquiring his first recording contract soon afterwards. Many of his hit recordings were made with Jo Stafford. It was in 1948 that he appeared in his first film, The Big Punch, a drama about boxing. He soon began an on-screen partnership with Doris Day and appeared with her in several films.
In 1951, he starred with Doris Day in On Moonlight Bay, followed by the sequel By the Light of the Silvery Moon in 1953. That same year, he also starred opposite Kathryn Grayson in the third film version of The Desert Song. This was followed by leading roles in two major films of Rodgers and Hammerstein musicals, Oklahoma! (1955) and Carousel (1956), both films opposite Shirley Jones.
On radio, he was the host and lead actor on The Railroad Hour, a half-hour anthology series made up of condensed versions of hit Broadway musicals.
MacRae appeared frequently on television, on such programs as The Martha Raye Show and The Ford Show, Starring Tennessee Ernie Ford, both on NBC. On Christmas 1958, MacRae and Ford performed the holiday hymn "O Holy Night". Earlier in 1958, Gordon MacRae guest starred on the short-lived NBC variety series, The Polly Bergen Show.
Thereafter, Gordon MacRae appeared on The Ed Sullivan Show, The Pat Boone Chevy Showroom, and The Bell Telephone Hour. He continued his musical stage career, often performing with his wife, as in a 1964 production of Bells Are Ringing, also performing as Sky Masterson in the popular musical Guys and Dolls, his wife playing the role of Miss Adeleide, reprising her Broadway role. In the late 1960s he co-hosted for a week on The Mike Douglas Show. He also toured in summer stock and appeared in nightclubs. In 1967, he replaced Robert Preston in the original Broadway run of the musical I Do! I Do!, starring opposite Carol Lawrence, who had taken over the role from Mary Martin.
In the 1970s, he portrayed a murderer on the popular TV series McCloud and played a supporting role in what turned out to be his last film, the 1979 motion picture The Pilot.
He was married to Sheila MacRae from 1941 until 1967; the couple were the parents of Heather MacRae and Meredith MacRae. He married Elizabeth Lamberti Schrafft on September 25, 1967, and they remained married until his death.
He was close friends with Shirley Jones and was the godfather of her son Shaun Cassidy.
Gordon MacRae and Sheila MacRae also had two sons named Gordon (Gar) and Robert Bruce (Bruce).

Event Details