Songs from the Ziegfeld Follies, Vivian Blaine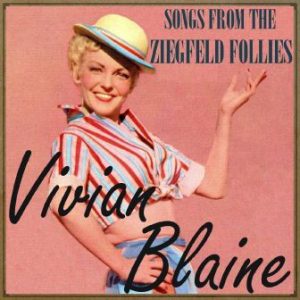 Add to favorites
Title: Songs from the Ziegfeld Follies
Artist: Vivian Blaine
Country: USA
Date: 2012-09-10
Vivian Blaine (noviembre 21, 1921 – diciembre 9, 1995) fue una actriz y cantante estadounidense conocida por el papel de Miss Adelaide en el musical de producción Guys and Dolls .
Nacida como Vivian Stapleton comenzó su carrera en 1934 y estuvo de gira con orquestas  de baile a partir de 1937. En 1942, su agente y pronto  marido Frank Manny  firmó un contrato con la Twentieth Century-Fox , y se trasladó a Hollywood , compartiendo cartel con Laurel y Hardy en Jitterbugs (1943) y protagonista en Greenwich Village ( 1944 ), Nob Hill (1945), y State Fair ( 1945 ), entre otras películas.
Vivian Blaine volvió a los escenarios, debutando en  Broadway con el musical Guys and Dolls en 1950. El musical trataba la vida de Nathan Detroit un organizador de las partidas más selectas de dados de Nueva York, y apuesta 1000 dólares con uno de los jugadores a que no es capaz de enamorar a una joven puritana que pertenece al Ejército de la Salvación.
En 1955 se estrenó la versión cinematográfica del musical, dirigida por Joseph Mankiewicz y protagonizada por Marlon Brando, Frank Sinatra, Jean Simmons y Vivian Blaine, ésta última como Miss Adelaide, el mismo personaje que ya interpretó en la producción original en Broadway.
Vivian Blaine también apareció en los escenarios de Broadway en  A Hatful of Rain, Say, Darling, Enter Laughing, Company, y Zorba .  También participó en las giras de las compañías musicales
Al llegar a los 50 años, su carrera despegó en televisión, con apariciones especiales en series como Fantasy Island , Murder She Wrote y The Love Boat.
El primer matrimonio deVivian Blaine , con  Franks, duró desde 1945 a 1956. Después  se casó con Milton Rackmil , presidente de Universal  Studios y Decca Records , en 1959, y grabó varios álbumes antes de su divorcio de 1961. En 1973, se casó con Blaine Stuart Clark. En 1983 se convirtió en la primera celebridad en hacer anuncios de servicio público para el SIDA.