Down Memory Lane, Vaughn Monroe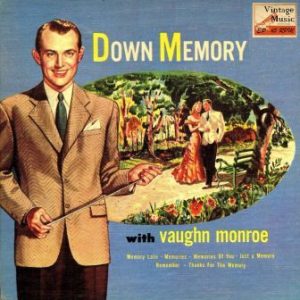 Add to favorites
Title: Down Memory Lane
Artist: Vaughn Monroe
Date: 2010-05-24
Vaughn Monroe Wilton (7 octubre 1911 a 21 mayo 1973) era un cantante barítono, trompetista y big band director y actor, más popular en los años 1940 y 1950.
Vaughn Monroe nació en Akron, Ohio y se graduó en el Jeannette High School en Pennsylvania en 1929 , donde fue presidente de la clase Después de la secundaria, asistió a la Carnegie Institute of Technology, donde fue un miembro activo de la Fraternidad Nu Sigma. Vaughn Monroe en su camino al estrellato como cantante pasó por Jeannette – Pittsburgh Tribune-Review.
Vaughn Monroe formó una banda en Boston en 1940 y se convirtió en su vocalista principal. También escribió una serie de canciones que van desde "Army Song" para los menos conocidos como el "Jeannette High School Alma Mater"
En la década de 1940, Vaughn Monroe construyó, The Meadows, un restaurante / club nocturno en la Ruta 9 en Framingham, Massachusetts, al oeste de Boston. Desde ahí realizaba un programa de radio a partir de 1946. Se quemó hasta los cimientos en diciembre de 1980.
Vaughn Monroe grabó ampliamente para la RCA Víctor hasta 1950 y su sintonía fue "Racing with the Moon" (1941). Entre sus otros éxitos fueron:
"In the Still of the Night" (1939), "There I Go" (1941), "There Iive Said It Again" (1945), "Let It Snow, Let It Snow, Let It Snow" (1946), "Ballerina" (1947), "Riders in the Sky" (1949), "Someday (You´ll Want Me To Want You)" (1949), "Sound Off" (1951), y "In the Middle of the House" (1956).. También rechazó la posibilidad de grabar "Rudolph the Red-Nosed Reindeer".