The Singing Trobadour, Nick Lucas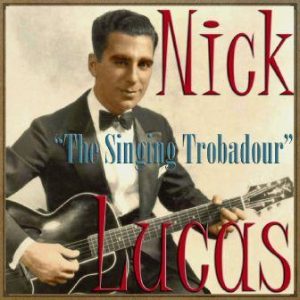 Label: The Singing Trobadour
Release date: 2013-01-05
Nick Lucas (22 de agosto de 1897, Newark , Nueva Jersey – 28 de julio de 1982, Colorado Springs , Colorado ). Dominic Nicholas Anthony Lucanese era un cantante y guitarrista americano, pionero del jazz, recordado como "el abuelo de la guitarra de jazz ", cuyo pico de su popularidad se extendió desde mediados de 1920 a principios de 1930.
En 1922, a la edad de 25,  Nick Lucas ganó fama con su éxito de versiones de las canciones "Picking the Guitar" y "Teasing the Frets" para la compañía  Pathe. En 1923, la Gibson le propuso construir una guitarra con un cuerpo mas profundo. Fue Conocido como el "Special Nick Lucas," y ha sido un modelo muy popular entre los guitarristas desde entonces. Ese mismo año, Nick Lucas comenzó una exitosa carrera para la compañía Brunswick y sigue siendo uno de sus artistas exclusivos hasta 1932.
En la década de los 20, Lucas había llegado a ser bien conocido como "El Trovador Crooning" debido al éxito de las grabaciones que realizó para el sello Brunswick. En 1929, Nick Lucas fue co-protagonista de la Warner Brothers Technicolor del musical "Gold Diggers of Broadway", en la que presentó los dos éxitos "Painting the Clouds with Sunshine" y "Tiptoe Through the Tulips". Este último se convirtió en tema oficial de Lucas.
En abril de 1930, Warner Bros. compró Registros Brunswick.
Debido a la reputación  de Nick Lucas, la Warner Bros.  le dio su propia orquesta, que fue anunciada en sus discos como "The Crooning Troubadours". Este arreglo duró hasta diciembre de 1931, cuando Warner Bros. vende Brunswick a American Record Corporation.
Los nuevos dueños no eran tan extravagantes como Warner Bros. y Lucas perdido su orquesta y finalmente dejó Brunswick en 1932 para ir por libre.
Nick Lucas hizo dos grabaciones para Registros Durium en 1932 .