The History Of Jazz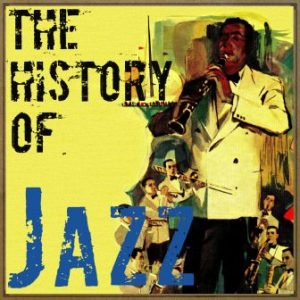 Label: The History of Jazz
Release date: 2011-09-11
Tracks:
Can't We Be Friends?


Jess Stacy

Under a Blanket of Blue


Red Norvo's Nine

New Orleans


Bobby Hackett's Band

Dutch Treat


Rex Stewart's Big Eight

Singin' in the Rain


Oscar Peterson

Anthropology


Dizzy Gillespie

Bésame Mucho


Frank Rosolino

Riffamarole


The International Jazzmen

High Society


Bunny Barigan

Little Rootie Tootie


Thelonious Monk

Indiana, Back Home Again In Indiana
Art Tatum
El jazz  es un género musical nacido a finales del siglo XIX en Estados Unidos, que se expandió de forma global a lo largo de todo el siglo XX.
Entre los muchos intentos de delimitar y describir el complejo fenómeno del jazz, el crítico y estudioso alemán Joachim-Ernst Berendt, en su obra clásica El jazz: de Nueva Orleans al jazz rock, señala:
El jazz es una forma de arte musical que se originó en los Estados Unidos mediante la confrontación de los negros con la música europea. La instrumentación, melodía y armonía del jazz se derivan principalmente de la tradición musical de Occidente. El ritmo, el fraseo y la producción de sonido, y los elementos de armonía de blues se derivan de la música africana y del concepto musical de los afroamericanos.
El mismo autor continúa describiendo tres elementos básicos que distinguen el jazz de la música clásica europea:
Una cualidad rítmica especial conocida como swing.
El papel de la improvisación.
Un sonido y un fraseo que reflejan la personalidad de los músicos ejecutantes.
A lo largo de su historia, el jazz ha pasado de ser una simple música de baile popular a una forma de arte reconocida en todo el mundo. Paralelamente a dicho progreso, han cambiado también las actitudes hacia esta música: en 1924 un periodista del New York Times se refería a ella como «el retorno de la música de los "salvajes"», mientras que en 1987 el Congreso de los Estados Unidos de América declaraba al jazz como un «destacado modelo de expresión» y como un "excepcional tesoro nacional".
Se ha señalado que el motor de dicho progreso ha sido la innovación, una particularidad que siempre ha estado presente en la historia de esta música, dirigiendo su evolución y caracterizando la obra de sus artistas más destacados al lado de una rama más tradicionalista. Paralelamente a esta dicotomía entre la innovación y la tradición, el jazz se ha movido entre la obra de unos artistas que solo han buscado el reconocimiento de una pequeña pero selecta audiencia y otros que ha dirigido sus esfuerzos a una audiencia más amplia.

Favorites
Your favorites will be here.
Género