The Four Freshmen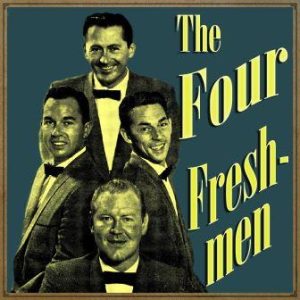 Label: The Four Freshmen
Release date: 2014-12-11
Hubo algunos grupos vocales que no renunciaron a la modernidad en el jazz. El mas importante de ellos fue el cuarteto masculino llamado The Four Freshmen, formado en 1948 en el "Conservatorio Arthur Jordan" de Indianápolis. Influido decisivamente por los Mel-Tones del cantante, Mel Tormé, el grupo llamó la atención de Woody Herman en 1949, y al año siguiente, Stan Kenton, les facilitó una audición con los dirigentes del sello Capitol, que los contrató inmediatamente.
The Four Freshmen, como la mayoría de los grupos vocales de la época, practicaban una armonizacion lo mas próxima posible procurando que todas las voces quedaran dentro de un intervalo reducido, a lo sumo, poco mas de una octava.
El resultado es un sonido terso pero demasiado plano. Su estilo buscaba el perfeccionismo propio con las notas relajadas del sonido West Coast. La etapa mas importante en la producción de The Four Freshmen llegó durante la segunda mitad de los cincuenta, en una serie de discos arreglados por el extraordinario Peter Rugolo, donde aparecían enfrentados a diversas plantillas instrumentales.
Así sacaron al mercado entre 1956 y 1964, los discos titulados: "Four Freshmen and 5 Trombones" (Capitol 1956); "4 Freshmen and 5 Trumpets" (Capitol 1957); "Four Freshmen and Five Saxes" (Capitol 1957); "Four Freshmen and Five Guitars" (Capitol 1960) y por último "More 4 Freshmen and 5 Trombones" (Capitol 1964)
El trabajo de Rugolo, contenido y serio, la presencia de importantes músicos de sección y de rítmicas eficaces, convierten la mayoría de estos LP´s en inatacables divertimentos de sabor jazzistico. El mismísimo Stan Kenton, en su disco "On the Road" (Capitol 1959)  incorpora a The Four Freshmen enfrentados con la poderosa orquesta kentoniana, y sus propios instrumentos con un magnifico resultado. El grupo original se disolvió dignamente en 1960