The Benny Goodman Story (O.S.T – 1955)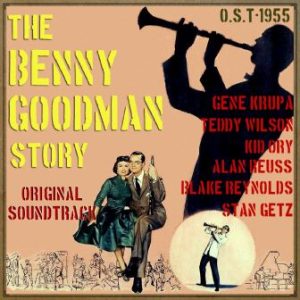 Add to favorites
Title: The Benny Goodman Story (O.S.T - 1955)
Artist: Benny Goodman
Country: USA
Date: 2011-11-26
The Benny Goodman Story
1956
The Benny Goodman Story es una película biográfica protagonizada por Steve Allen y Donna Reed , dirigida por Valentine Davies y publicado por Universal Studios en 1956.
La película está basada en la vida del famoso clarinetista Benny Goodman , quien grabó la mayoría de los solos de clarinete utilizados en la película.
La película captura varios momentos importantes en la vida de Goodman, pero se ha descrito como menos precisa en los detalles. El origen judío de Goodman no se menciona explícitamente, a pesar de jugar un papel importante en su labor artística y personal desde hace décadas.
En una escena, donde su madre trata de hablar con él de un romance con Alice Hammond, interpretado por Donna Reed , quien finalmente se casó con Goodman, dice, "Bagels y el caviar no se mezclan."
Lionel Hampton , Martha Tilton , Kid Ory , Givot George , Gene Krupa , Teddy Wilson y muchos otros músicos hacen cameos en esta película. Sin embargo, mientras que Ziggy Elman aparecía en la pantalla recreando su solo de trompeta en "And the Angels Sing", no pudo dejar constancia de su parte para la banda sonora; Manny Klein fue quien realmente la grabó, fuera de cámara.