Songs With Swing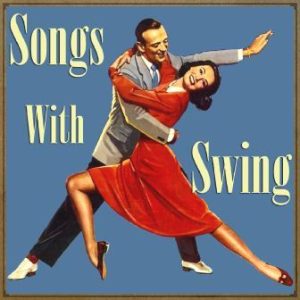 Add to favorites
Title: Songs With Swing
Artist: Various Artists
Date: 2012-05-15
Songs:
03 I Didn't Know What Time It Was
Artist: Frank Sinatra

Songwriter: Rodgers, Hart

04 Allá en el Rancho Grande
Artist: Pearl Bailey

Songwriter: Ramos, Uranga, Costello

06 That Terrific Rainbow


Artist: Barbara Nichols, Trudy Erwin

Songwriter: Rodgers, Hart

07 Sixteen Tons


Artist: Tennessee Ernie Ford

Songwriter: Merle Travis

08 Sweet Song of India


Artist: The Mcguirre Sisters

Songwriter: Kaye, Clayton

09 Clementine
Artist: Bobby Darin

Songwriter: W. Harris

10 By the Light of the Silvery Moon
Artist: Doris Day

Songwriter: Maden, Edwards

11 Meet a Happy Guy


Artist: Guy Mitche

Songwriter: Livingston, Evans

12 Zip


Artist: Jo Ann Greer

Songwriter: Rodgers, Hart

13 Nevertheless
Artist: Fred Astaire, Red Skelton, Anita Ellis

Songwriter: Rubi. Kalmar

14 Up Above My Head
Artist: The Crew Cuts

Songwriter: Rosetta Thorpe

16 Somebody Loves Me
Artist: The Four Freshmen

Songwriter: Gershwin, McDonald, De Sylva

17 Lipstick and Candy and Rubbersole
Artist: Julius La Rosa

Songwriter: Bob Haymes

18 I Got Rhythm
Artist: Gene Kelly

Songwriter: Gershwin

19 What Can I Say After I Say I'm Sorry
Artist: Peggy Lee

Songwriter: Donaldson, Liman

21 A Bushel and a Peck


Artist: The Andrew Sisters

Songwriter: Frank Loesser

23 That Is All


Artist: The Johnston Brothers

Songwriter: Donaldson
Swing
La música swing, también conocida como swing jazz o simplemente swing, es un estilo de jazz que se originó en Estados Unidos hacia finales de los años 1920, convirtiéndose en uno de los géneros musicales más populares y exitosos del país durante los años 1930.
El swing utiliza instrumentos habituales en el jazz, como una sección rítmica formada por piano, contrabajo y batería;metales como trompetas y trombones; instrumentos de viento-madera, como saxofones y clarinetes; y muy ocasionalmente,instrumentos de cuerda como violín o guitarra. El swing utiliza preferentemente tempos medios y rápidos, generaliza los riffsmelódicos y libera el rol del batería de ciertas restricciones que había tenido hasta entonces.
El conjunto característico del estilo fue la big band, adquiriendo además cada vez mayor importancia el papel del solista. Destacan en este estilo músicos como Fletcher Henderson, Benny Goodman, Duke Ellington o Count Basie.
La denominación de este estilo como "Swing" se consolida hacia1935, al producirse una identificación del mismo con uno de los elementos más característicos en la interpretación jazzística que, desde mediada la década de 1920, se conocía precisamente como swing.

Recopilaciones Vintage Swing Vocal Jazz
Favorites
Your favorites will be here.
Apple
Amazon
Deezer
Género