Soft Country Music, The Browns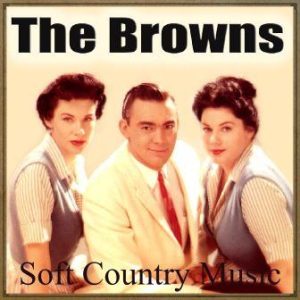 Label: Soft Country Music
Release date: 2013-04-24
El legendario trío The Browns -Jim Ed Brown y sus hermanas Maxine y Bonnie- tuvieron una impresionante serie de éxitos en los años 50 y principios de los 60, tanto en las listas country como en las listas pop
Jim Ed Brown nació en Pine Bluff, Arkansas y si bien su padre tenía un negocio de leña y Jim Ed seguiría sus pasos, el llamado de la música fue mucho más fuerte y comenzó cantanto a dúo con su hermana Maxine, eventualmente grabando una canción de muestra que llegaría a manos de los ejecutivos del sello discográfico Fabor, que tenía también a futuras estrellas country pop como Jim Reeves y Johnny Horton.
Los primeros éxitos de The Browns fueron "Looking Back To See" -escrito por Maxine e inspirado por una historia de su hermana más joven, Norma-, y siguió "Here Today and Gone Tomorrow". Para 1955, Bonnie se había unido y ya eran trío. Dos años de duro trabajo los llevó a firmar contrato con RCA. Más éxitos llegaron como "I Take The Chance" y "I Heard the Bluebirds Sing", pero la salud de su padre desmejoró y decidieron volver al negocio de la leña.
En la última sesión de grabación antes de retirarse, Jim Ed quiso grabar una canción que eventualmente sería un éxito para Edith Piaf, "The Three Bells sobre todo porque el personaje en la canción se llamaba "Jimmy Brown". Jim Ed le dió la grabación al legendario productor y guitarrista Chet Atkins, quien viajó hasta los cuarteles centrales de RCA y les dijo "o promocionan esta canción, o pierden a Chet Atkins!". Respetando la amenza, los ejecutivos de RCA lanzaron la canción al mercado, que llegó al Nº 1 en las listas de country y pop en 1959.
The Browns nunca regresaron al negocio de la madera. Convirtiéndose en uno de los más exitosos grupos de la década y de la siguiente también. (26 de abril)