Songs of a Vagabond Lover, Rudy Vallee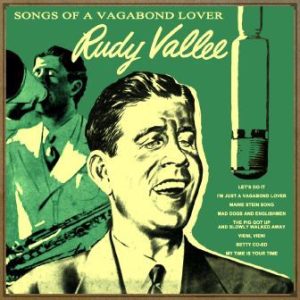 Add to favorites
Title: Rudy Vallée
Artist: Songs of a Vagabond Lover
Country: USA
Date: 2012-10-01
Rudy Vallee
Su verdadero nombre era Hubert Prior Vallée, y nació en Island Pond, Vermont, siendo sus padres Charles Alphonse y Catherine Lynch Vallée, ambos hijos de inmigrantes de origen canadiense e irlandés. Rudy se crió en Westbrook, Maine.
En el instituto Rudy Vallee aprendió a tocar el saxofón y le dieron el mote de "Rudy", en alusión al famoso saxofonista Rudy Wiedoeft.
Rudy Vallee tocó la batería en la banda de su instituto, y en su juventud tocó el clarinete y el saxofón en diversas bandas de Nueva Inglaterra. En 1917, quiso alistarse para luchar en la Primera Guerra Mundial, pero fue rechazado por no tener más que quince años. Sin embargo, consiguió alistarse en Portland (Maine) el 29 de marzo de 1917, falseando su fecha de nacimiento.
Rudy Vallee fue licenciado en la Naval Training Station de Newport (Rhode Island) el 17 de mayo de 1917, con solo 41 días de servicio activo. Entre 1924 y 1925, tocó con la "Savoy Havana Band" en Londres, Inglaterra. Después volvió a los Estados Unidos para obtener una licenciatura en la Universidad de Yale y para formar su propia banda, "Rudy Vallee and the Connecticut Yankees". Con esta banda, en la cual tocaban dos violines, dos saxofones, un piano, un banjo y baterías, empezó a cantar.
Rudy Vallee tenía una voz más apropiada para cantar dulces baladas que para interpretar temas de jazz. Sin embargo, su canto, junto con su agradable apariencia, atrajo la atención del público, especialmente de las jóvenes. Rudy Vallee consiguió un contrato de grabación y en 1928 empezó a actuar en la radio.
Rudy Vallee llegó a ser el más importante y, quizás, el primero de un nuevo estilo de cantantes, el crooner, o cantante de baladas. En la época anterior al micrófono, los cantantes necesitaban voces potentes para hacerse oír en los teatros.
Sin embargo, los crooners tenían voces blandas, muy aptas para la intimidad del nuevo medio de la radio. El fraseado de Vallee en la canción "Deep Night" inspiraría más adelante a crooners de la categoría de Bing Crosby, Frank Sinatra y Perry Como para que modelaran su voz al compás de los instrumentos de jazz.