Pete And Five Strings, Pete Seeger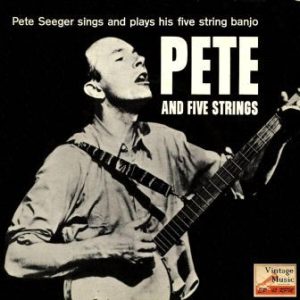 Add to favorites
Title: Pete And Five Strings
Artist: Pete Seeger
Country: USA
Date: 2010-04-22
Pete Seeger (Nueva York, 3 de mayo de 1919). Músico de folk estadounidense.
Su carrera musical se inicó en la década de 1940, al integrarse a las bandas The Almanac Singers (donde también participó Woody Guthrie), y The Weavers.
Pete Seeger siempre mantuvo en sus obras una cuota de compromiso social y de defensa por los derechos humanos, lo que le valió una persecución política en su propio país por parte del Comité de asuntos antiamericanos en 1951, quien lo condenó a doce meses de prisión y diecisiete de total y absoluta censura en los medios de comunicación locales.
En la década de 1960 con el auge de la cultura Hippie, y los cambios que causó en la sociedad, su carrera artística fue relanzada. Pete Seeger popularizó en Latinoamérica su versión de la canción Guantanamera y se opuso fervientemente a la Guerra de Vietnam, a la que le dedicó el tema I feel I´m fixing to die Rag.
En 1963 Pete Seeger logró un gran éxito con el álbum We shall overcome.
En 1972 Pete Seeger editó el libro The Incompleat Folksinger.
En agosto de 1989 ofreció un recital en el Teatro Opera de Buenos Aires, junto al músico argentino, León Gieco.
En 1994 Pete Seeger recibió la Medalla Presidencial de las Artes y en 1997 el Grammy en la categoría Folk. En 1999 viajó a La Habana para recibir la Orden Félix Varela de Primer Grado.