Meet Me In St. Louis, Mitch Miller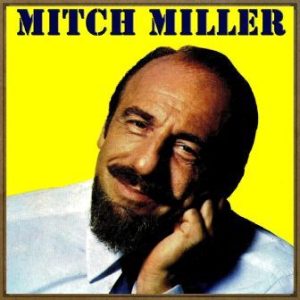 Label: Meet Me In St. Louis
Release date: 2010-11-01
Mitch Miller (nacido Mitchell William Miller el 4 de julio de 1911 en el seno de una familia judía en Rochester, New York), es recordado como uno de los artistas de mayor éxito de los años cincuenta y comienzos de los sesenta. Fue también ejecutivo de la Columbia Records durante muchos años y lideró durante muchos años su propio coro masculino, "Mitch Miller and the Gang", antes de abandonarlo él mismo.
Mitch Miller y su coro fueron famosos por su transgresor espectáculo televisivo de los sesenta titulado Sing Along With Mitch. Durante la segunda temporada del programa, el mismo Mitch Miller acuñó el eslogan "All Smiles", que iba precedido por las instrucciones para "sing along; just follow the bouncing ball" (un gran punto que saltaba sobre las palabras que eran sobreimpresionadas en televisión a la canción que Mitch Miller estaba cantando).
Los mayores éxitos de Mith Miller con el coro fueron "The Yellow Rose of Texas", una versión baterística de la vieja marcha, y "Colonel Bogey March", que más tarde disfrutaría de una renovada popularidad tras su uso en la película The Bridge on the River Kwai (1957). Además de su espectáculo televisivo, Miller y su coro grabaron varios discos que se vendieron muy bien.
Uno de los cantantes del coro de Mith Miller, Bob McGrath, desarrolló una larga carrera como uno de los anfitriones del programa de televisión Barrio Sésamo.
Como jefe del departamento de artists & repertory (A&R) en Mercury Records a finales de los cuarenta, y de Columbia Records en los cincuenta y comienzos de los sesenta, Mith Miller consiguió reputación de crear grabaciones que contenían lo que el historiador musical Will Friedwald ha denominado "aural texture":