Mambo Jambo, Jerry Murad's & The Harmonicats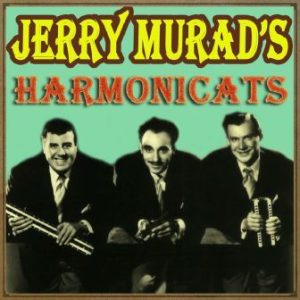 Add to favorites
Title: Mambo Jambo
Artist: Jerry Murad's & The Harmonicats
Country: USA
Date: 2013-03-10
Jerry Murad's & The Harmonicats.
Trio compuesto por
Jerry Murad
(Muradian Jerry Born, Turquía, falleció el 11 del municipio de mayo de 1996, Liberty, Ohio)
Al Fiore
(Nacido Fiorentino Al de 1923, murió el 25 de octubre de 1996, Chicago, Illinois)
Don Les
(Leshinski Nacido Domingo 15 de noviembre de 1914, murió el 25 de agosto de 1994, Madison, Wisconsin)
Jerry Murad's & The Harmonicats
fueron el grupo que más discos vendió de todos los grupos de  armónica, con un hit en el número 1 en 1947, con la canción : "O ´Mi Corazón de Peg".
Se beneficiaron del descenso de grupos con armónicas ya que durante la huelga  del sindicato de músicos , a la armónica no se la consideró como instrumento musical.
Jerry Murad's & The Harmonicats
grabaron  para Columbia hasta mediados de la década de 1950, luego ficharon por la MERCURY por algunos años, regresando a la CULUMBIA hasta finales de 1960. A
Jerry Murad continuó con nuevas versiones de The  Harmonicats hasta su muerte en 1996.