An American In Madrid, Larry Sonn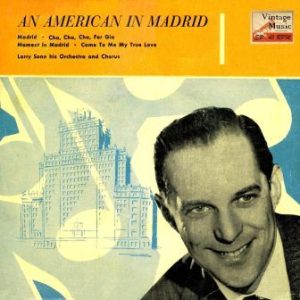 Add to favorites
Title: An American In Madrid
Artist: Larry Sonn
Country: USA
Date: 2010-04-22
Larry Sonn
El trompetista, arreglista, compositor y director de orquesta de fama internacional, Larry Sonn se graduó en la Julliard School of Music de Nueva York. Comenzó su carrera (como primera trompeta) con la Orquesta Sinfónica del Sur en Columbia, Carolina del Sur, pero más tarde se volvió hacia a la música  popular del Swing y el sonido big band.
Pronto Larry Sonn empezó a  tocar la trompeta en las orquestas principales de los EE.UU. como Glenn Miller, Teddy Powell, Bobby Byrne, Charlie Barnett y López Vicente.
A la edad de 8 años, Larry Sonn comenzó a estudiar la piano,  más tarde cambió a la trompeta. Cuando era adolescente, Sonn ya tocaba profesionalmente en  la Orquesta de Dick Jacobs. . Un poco más tarde, Sonn ganó una beca en la famosa Juilliard York New School of Music, donde continuó su estudio de la trompeta. Aunque se formó para la música clásica, los sonidos de trompetas de sus compañeros Bunny Berigan y Harry James le afectó profundamente. A pesar de quetocó por primera vez con la Orquesta Sinfónica del Sur, Larry Sonn pronto volvió al norte para tomar una silla en la banda de Vicente López.
Un tour 1940  llevó a Larry Sonn desde Nueva York a Filadelfia, y luego a San Antonio. En Texas, el coronel Enrique R. Vega, un asistente al presidente de México Adolfo Ruiz Cortines, había abierto un club pródigo en la entonces nueva ciudad de México, Hotel Reforma, y que necesitaba un director de orquesta estadounidense, vocalista y músicos.
Después de escuchar Larry Sonn, Vega le ofreció un trabajo en el hotel "Ciros Night Club". En 1946, Larry fue al sur de la frontera en un contrato de seis meses y se mantuvo durante nueve años. Sonn construyó la banda, en su style, y poco a poco añadió a los mejores músicos de México en la organización.